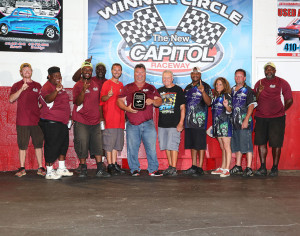 Jim Bradshaw and his team outdid themselves for the return of the NEOPMA Pro Mods, this team is great. The temperature was hot and very sticky, there was a serious threat of heavy thunder storms but Jim and the Capitol team put the track on kill, capable of holding the ET and MPH that were displayed on this weekend, big Pro Mod numbers were being put up round after round. Additional thanks for letting us display so many of our sponsor banners. Outstanding job and super preparation.
Special thanks to our Sponsors for their continued support. Thanks to our NEOPMA Officials for an amazing job.
OFFICIAL RACE PHOTOS by BLACK ROCK PHOTOGRAPHY CLICK HERE
MORE OFFICIAL RACE PHOTOS HERE BY goDragRacing Mark
Here is a quick summary: Seventeen racers showed up but two had problems (Fifi Montrond, Pappas / Marinis team) and didn't qualify so now we were down to 15 cars. Some of the numbers may be incorrect as the track had some computer issues so we had to do this by hand notes and memory.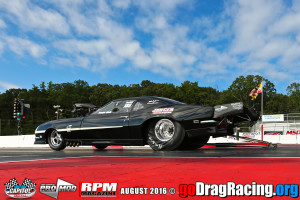 Dwayne Wolfe team qualified with a 5.85 so they got the bye run with lots of 6.0s and 6.10s etc.
ROUND ONE ELIMINATIONS: Wolfe ran an easy 5.91 on a bye run. Tyler Hard beat Tom Gray who was running his GTO as the Vette broke a valve and could not be fixed. Kevin McCurdy ran an easy 6.32 to beat Matt Willey and Gary Hood lost to Casey Stemper's 6.08. Rob Hunnicutt had some problems (unable to start) losing to Angela Ray Kinson's 6.01 while Ed Burnley 6.11 beat Allan Juhasz. The Fred Scriba 6.11 beat Shawn Jones and Dave Norris ran a 6.14 as Tony Braglio had transmission problems on the line.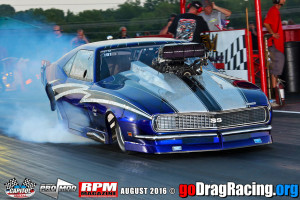 ROUND TWO ELIMINATIONS: Things started to get really exciting at this point as Dwayne Wolfe ran a killer 5.91 beating Tyler Hard 6.28 (tire shake). McCurdy 6.07 just beat Casey Stemper 6.08. Angela Ray Kinson 6.01 won as Ed Burnley made a super effort with a 6.11. The Scriba team hurt some pistons (did not make it to the line) and lost to Dave Norris beautiful gray Camaro.
SEMI FINALS: Just when you think racing can't get any better it gets unbelievable. The battle of the Blowers was on! Dwayne Wolfe and his brother Matt "the Mad Genius Einstein " paired against Kevin McCurdy known as "The Kick Ass Points Leader ". Kevin knew he would have to kick it up a notch to win but had some tire shake. Dwayne ran a 5.98 against Kevin's 6.03. While the other half of the field was crazy as Angela Ray Kinson 5.98 also stepped it up winning against Dave Norris 6.13.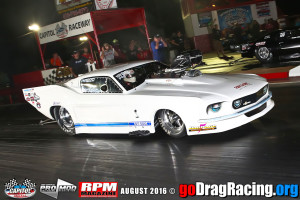 THE FINALS WERE INSANE: Two cars equally fast on with the cooler air, super-fast track and spectators in the stands that are going nuts. Both cars put in more tune up to win the big money and both are great drivers with super cars. Angie left on Dwayne but Dwayne believed he could catch her but Angie had her own secrets (her Father and husband) put in a special tune up. Dwayne's tire shake 6.07 lost to Angie's 5.94.
Super track, great track people, super day, super racers, fantastic spectators and everyone had fun …what else could you ask for. Thanks to everyone for a wonderful two days.
Regards,
John.
NEOPMA Major Manufacturer Sponsors: American Racing Headers, Star Transporters / Renegade (Bernie Cochran), VP Racing Fuel, MSD Ignitions, Stupid Fast Tee Shirts
NEOPMA Associate Manufacturer Sponsors: ATI Performance, Penske Shocks, Goodyear Racing Tires, Ram Clutches, Neal Chance Converters, Vanishing Point Race Cars, Precision Turbo, HPL Synthetic Motor Oil
NEOPMA Supporting Club Members: Brian Hard "Hard Racing", Jim Barker "Barker Racing", Fred Scriba "Scriba Welding", "Pappas / Marinis Racing Team", Fifi Montroud, Craig Pio "Pio Racing", Dave Hance "New York Motorsports"
NEOPMA Officials:
Event Directors… John Mazzorana President / CEO, Rocco and Joanne Micciolo VP, Mark Tinari VP, Ray Staley, Mel Jones.
Photography / Web Site / MEDIA Relations, RPM Magazine … Mark Tinari VP, Tara Bowker of Black Rock Photography "Official NEOPMA Photographer"
Announcer and Tee Shirt Sales… "Rockin Rob" Cherkas and Caity Lady
Videos and Interviews… Jimmy Biggs