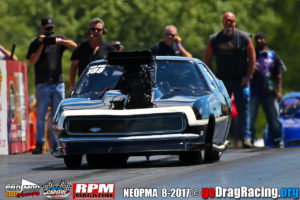 NEOPMA Pro Mods Capitol Raceway Results 8-5-2017
Thank you for your attendance and support. I am proud of you for the great racing you brought to our fellow racers, the fans and spectators. It's been a long time since I've seen the spectators get to the stands, then get on their feet and pay the amount of complements that we received. Fantastic, and you the racers deserve it.
Special thanks to Jim Bradshaw and his team for their hospitality and superior track prep. We started later than originally planned and due to a car fire, curfew and dew we were unable to finish the event. I did get some complaints from fans about the manual ladder and not finishing the event. Additional thanks to our sponsors and club officials for their continued support.
For those of you who didn't make it, you missed one hell of a race. The track prep was perfect, the air was good, the racer/spectator attendance was great. We started out with 18 cars in testing but lost one. By the end of first round of qualifying we had 5 cars in the high 5 second range.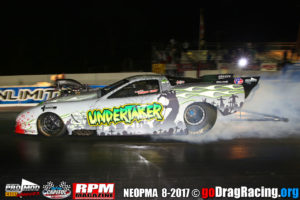 Before the end of the night we had 8 cars in the 5.78 to 5.99 range with the Pappas / Marinis (5.78 ET), Tommy Gray Team (5.80), Casey Stemper Team (5.86), Dwayne Wolfe Team (5.87), Kevin McCurdy / Hard Team (5.87), Steve Drummond Team (5.89) leading the pack.
Saturday Final Qualifying and Eliminations:
Round one we started off with 13 cars as 5 cars broke in testing or qualifying (Steve Drummond, Gary Hood, Wayne Patton, Craig Pio, Fred Scriba (5.94). Pappas / Marinis Team got a bye and ran a 5.78 ET Kevin McCurdy (6.17) just nosed out Kenny Ferguson Team (6.24) Tom Gray really stepped it up with a 5.81 beating Steve Dale / Jeff Roberson Team (6.07) Tony Braglio coasted down the track on a bye (Fred Scriba Broke earlier) Casey Stemper had issues so Ed Burnley eased it down the track Steve King fouled. The King / Jeff Miller Team continue to struggle however the Montana / Howell Team found the combination and ran n string of 6.0's. Dwayne Wolfe ran a 5.91 beating Matt Dietsch who broke. Joe Dunne's consistent 5.96-6.0's got a bye run as Craig Pio has problems.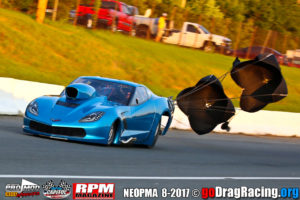 Round Two:
Dean Marinis (5.82) nosed out Kevin McCurdy (5.87). Door to door SUPER RACE. Tommy Gray (5.91) defeated Tony Braglio. Ed Burnley got out of the grove and lost to Nick Montana (6.07). Dwayne Wolfe (5.91) beat Joe Dunne's 6.06.
Round Three:
Dean Marinis (5.82) just lost to Tommy Gray (5.80). Another SUPER RACE. Dwayne Wolfe (5.91) beat Nick Montana (6.18)
Regarding the August 4-5 race. As you are aware, we were unable to finish the event so here is the plan:
1. Tommy Gray and Dwayne Wolfe will finish the final round at Capitol during qualifying rounds at our next race there on September 8-9. The winner will get an additional $ 1,000.00 bounty.
Regarding the September 8-9 race at Capitol. This event will be enhanced with an additional $2,000.00 to the winner and an additional $ 1,000.00 bounty to the first car that breaks the Marinis / Pappas track record of 5.78 ET.