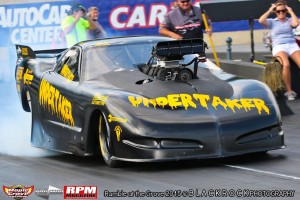 (August 28th – 29th – Mohnton PA.) The dog days of summer are still a big part of Pro Modified drag racing competition in our NEOPMA series as temperatures always effect performances but Maple Grove's Annual "Rumble At The Grove" was surely a surprise when the qualifying and early testing began on Friday evening but we'll get to that in the final qualifying recap. Our first trip to Maple Grove of the season was a welcomed homecoming on the mountainous scenic legendary track.
Maple Grove NEOPMA Rumble At The Grove Pro Modified Drag Racing Photo Gallery By Drag Racing Photographer Tara Bowker "Black Rock Photography" HERE
Maple Grove NEOPMA Rumble At The Grove Pro Modified Drag Racing Photo Gallery By Drag Racing Photographer goDragRacing Mark HERE
The stunning backdrop of this national facility is one of the finer parts of being at this track on race day. As the oppressive heat gave way to the cooling temps as the sun began to drop the gorgeous sunset we all witnessed allowed for the first round of qualifying to begin in this beautiful setting. Track prep was defiantly on point for this session as an early field had 12 cars taking in the evening qualifier with two more rounds remaining in the early afternoon coming on Saturday with more cars arriving in the early AM and NEOPMA announcer "Rockin Rob" Cherkas and President John Mazzorana calling the race throughout the event.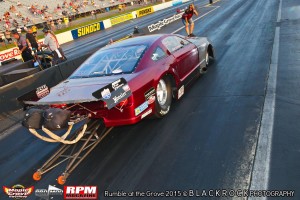 Qualifying Highlights:
1: This seems to becoming Tommy Gray's spot with his "Undertaker" Supercharged Corvette more often as he again destroys the tracks surface knocking down a blistering 5.897 @ 241 in the day to evening transition Friday taking the top spot.
2: Robert Patrick would unpack his "Super Snake" Shelby out of Purvis Ford which was recently featured in our Sponsor RPM Magazine and ripped off a sizzling 5.916 @ 241.
3: Tyler Hard has now gotten consistent in the "Hard Racing "Tim McAmis" Camaro keeping this flaming "Switzer Dynamics" tune up hot and clean to the number three spot 5.976 @ 239.
4: Team-Mate Kevin McCurdy flies into the number four position tearing it up in the Supercharged "Tim McAmis" Camaro out of "Hard Racing" with a strong 5.991 @ 239.
5: Fredy Scriba is back in his "zone" with the Scriba Welding "Sorcerer" Vette 6.035 @ 235.
6: Dean Marinis and Owner Harry Pappas have this NEW "Jerry Bickel" C7 Vette on track as fast as its times are running it out soft 6.074 @ 232.
7: Steve Drummond with one of the two turbocharged entries puts himself in the ladder with a HUGE Top MPH 242 and ET of 6.099 while pedaling the Mustang out of "Drummond Race Cars"
8: Running on just a "small 728ci motor" Steve Assenmacher really got this pass down strong stretching the horsepower out 1320ft and a personal track best 6.165 @ 229.
9: "Skull Gear Racing" Chuck Mohn fought tire shake but managed a "Pipes Lit" nitrous blast in the gorgeous Camaro with "Sonny's Racing Engines" powering it to a good 6.176 @ 223, Chuck has more in this beast.
10: Gary Naughton and Pontiac GXP Owner Gil Christy are beginning to reign in the new combination of "DiSomma Racing Engines" turbocharged Hemi as they try to harness the power running 6.253 @ 237.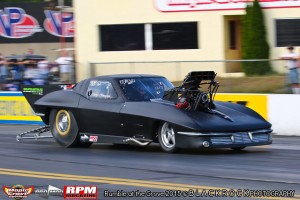 11: Casey Stemper is already proving his skills as he not only qualified but took his steps to his NHRA License in the final qualifier driving through tire shake in the family owned teams Supercharged Vette 6.259 @ 200.
12: Just returning from her wedding now Mrs. Angela Ray Kinson turned a 6.299 @ 217 pedaling to a position in the lower part of the ladder with the families "one of a kind" Supercharged Shelby Mustang featured also in RPM Magazine just last year.
13: Matt Deitsch is still struggling to get this "known 5 second Camaro" down the track clean, one of the few clutch cars he's been working hard but only manages 6.343 @ 193.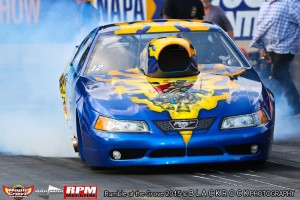 14: Jeff Rodger's with his "Gary Hood Race Cars" Executioner Mustang is always wheels up and putting on a show. Jeff as wheelman takes control of this brute and blazes to a 6.346 @ 224.
15: Though a 6.590 @ 209 may not seem like much in a class of 6.10 +/- cars it's a work in progress for Allan of Juhasz with the new "Fulton Racing Engines" power plant in between the frame rails of his "Real Pro Stock" Grand Am chassis, it's a personal best so far for the team on an extra small safe tune up.
16: Young Matt Deitsch has been on a mission driving his Small Cubed "Cobalt" through a Liberty shifting his way into the ladder 6.88 @ 199.
17: Scott Woodington would again have trouble getting the "Wicked" Corvette down the track consistently and fails to qualify.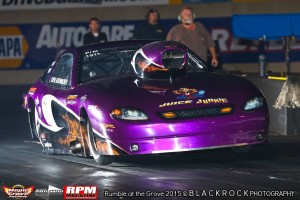 Round One Eliminations:
Saturday's qualifying began with hopes of the same cool temps felt the night before but it wouldn't be the case as heat was well into the high 70's and humidity was heavy in the air as first round was called to the lanes at sundown. Number One qualifier Tommy Gray would suffer a loss in the first round as his "Trans Brake" failed as soon as he matted the loud pedal the "Undertaker Vette" lurched off the line causing a red-light leaving Matt Deitsch Jr. alone on a full power pass 6.852 @ 200. Chuck "Skull Gear Racing" Mohn found his groove and reigned in the nitrous blazing Camaro for a screaming 6.018 @ 232 as Steve Assenmacher shook hard off the line losing. Matt Deitsch had trouble not able to start giving Kevin McCurdy a bye run and only put up a tire shaking 7.167 @ 138.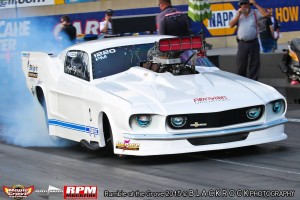 Fredy Scriba made it hard on Angela Ray Kinson though she got the jump, her 6.176 @ 232 wasn't enough to catch the gear banging Fredy Scriba taking the win 6.012 @ 235. The race that could have changed the whole day was between Allan Juhasz and Robert Patrick, Juhasz with tons of experience in tight racing need to at least be good on the tree and maybe shock Robert Patrick but Juhasz tried a little too hard red lighting -.026 running 7.098 @ 152 which would have beaten Patrick's "all over the track in and out of the pedal" 8.405 @ 110. Steve Drummond gets a free pass as a small problem was found on Gary Naughtons GXP, Drummond runs his Mustang out with big MPH again but down on ET 6.186 @ 242. Jeff Rodger's was hunting "Executioner Style" needing to cut down the tree.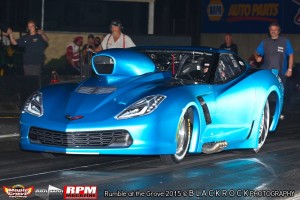 Rodger's took the chance and cost him the race as he red lit -.011 giving Tyler Hard a free ride to next round firing down the track on all "Switzer Dynamics" nitrous filled cylinders 6.011 @ 236. Casey Stemper drew a tough opponent in Dean Marinis this round. Marinis would wheel the "Harry Pappas" C7 Vette under "BES Racing Engines Power" to a solid pass front to back .027 6.055 @ 233 as the young Casey Stemper takes a loss but his very strong 6.153 @ 225 fulfilled his License pass requirements and is now NHRA certified.
Round Two Eliminations: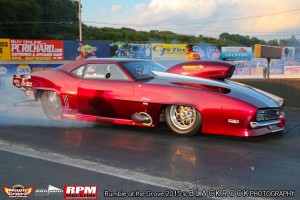 Chuck Mohn knew he had some serious round opponents coming up as his heavily underpowered opponent Matt Deitsch Jr. would be considered easy prey this round. Mohn took a chance on a brutal tune up hoping for lane choice possibly and shook the tires hard not able to recover he shuts down as young Matt Deitsch takes the win light 6.833 @ 200. Kevin "The Burnout King" (his burnouts alone are worth admission to any race) broke a rod on his burnout ending his night at the starting line, Fredy Scriba also wanting lane choice went for the "Hyper Tune Up" and hit the tires too hard shaking but getting into the next round. Steve Drummond trying to get his car back to making the mid track transition after struggling with torque converter issues cut a brilliant .013 light against opponent Robert Patrick at .098 but Patrick put the big hit in the "Sonny's Racing Engines 903ci" and disappeared into the night 5.909 @ 242 as Drummond couldn't keep pace he falls in this round 6.107 @ 231. Dean Marinis with little time on the Harry Pappas C7 Vette and still using the "smallish 822ci motor" for setting up the car knew he may need to cut a light on opponent Tyler Hard who's been on a string of sub six second passes, which Marinis took the chance on the tree and red lit -.012 but ran another 6.056 @ 235 as Tyler Hard took his win again the sweet look of this spectacular "Tim McAmis" Camaro lit the top end with flaming pipes 5.953 @ 238 for his win.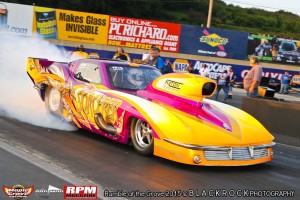 Semi Finals:
Deep into the evening the quickest three Pro Mods all nitrous entries rolled to the burnout box, Young Matt Deitsch Jr. was having a "Cinderella Man" night going into the semis with a 598ci motor on a small hit had one of the toughest to deal with in Fredy Scriba. Matt Deitsch broke the tires loose on the hit and Fredy Scriba turned up the wick on the "Sorcerer" Vette scorching the track into the darkness with his best run in many races 5.947 @ 237 letting the better of the next two who had some power left for finals coming up.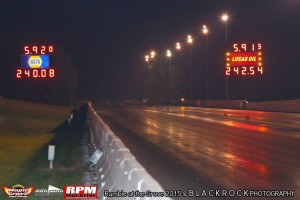 The two quickest cars of the day paired up under Maple Groves lights as this was the race to watch with Tyler Hard now the NEOPMA Points leader would face a very quick all day Robert Patrick. Long nighttime burnouts ensued as both needed all the hook they could get. Both quickly staged as the tree dropped Robert Patrick and Tyler Hard left with nearly identical reaction times .051 to .057 respectively, both had the pipes lit on the hit matching each other's numbers to the final stripe as the super-heated air cleared blurred buy the incredible flame show Robert Patrick would have the win light in his lane 5.913 @ 242 to Tyler Hard's equally impressive 5.920 @ 240. The complete MOV of this race was .013!! Fans at Maple Grove witnessed the quickest side by side pass of the season.
Finals:
Both racers Fredy Scriba and Robert Patrick wanted this final bad, each car had been getting quicker and the track was getting better but as time to turn the cars around safely was too short the final was not to be tonight as curfew ended track operations at 11PM sharp. Both racers will finish this race at the "New Capitol Raceway" on September 11th -12th in the third qualifier unless we hear of a grudge race final set up… Hint Hint.
NEOPMA would like to thank all the staff at Maple Grove Raceway for their support of our Program and the fantastic track they gave us. This is why NEOPMA chooses Maple Grove, it's an incredible facility.
NEOPMA PROUDLY DISPLAYED SPONSOR BANNERS AND ANNOUNCED THEIR NAMES AND PRODUCTS. THANKS TO OUR SPONSORS: American Racing Headers, Renegade/Star Transporters, MSD Performance Products, Stupid Fast Tee Shirts, VP Racing Fuels, Goodyear Racing Tires, ATI Performance Products, Ram Clutches, RPM Magazine, G Force Race Cars, Star Cab Company, Scriba Welding, Barker Racing and Dave Hance New York Motorsports.
More and continued thanks to our NEOPMA Officials …Rocco and Joann Micciolo (Event Management), Mark Walker and Tara Bowker "Black Rock Photography" (Photography / Web site Management), Rockin Rob Cherkas and Caity Lady (Announcements and Tee Shirt Sales).
NEOPMA returns to the New Capitol Raceway this Sepember 11th – 12th for the eight of its ten race series. Be there and feel the excitement of full 1/4 drag racing with the NEOPMA series.