Thank you to our very dedicated racers for your wonderful attendance. We had 18 cars attend although the weather forecast was questionable. Sixteen racers showed up for the first round of qualifying on Friday while two others, Paul Atkins and Andy Jensen arrived on Saturday.
Special thanks to people who traveled numerous hours to come to this event only to have it cancelled although the radar seemed questionable. In the 25 years (228 races booked) this only happened once before. Fortunately, a combination of NEOPMA slush fund and Capitol contribution helped slightly offset some of your travel cost. To my knowledge the NEOPMA is the only organization that does this.
For those of you who weren't in attendance, here is what happened on Friday.
Testing all afternoon from about 1 until 6 PM went smoothly, most racers were struggling to dial in the track as it was really tight so they need several more rounds to turn super times.
At 8:45 PM we had our 1st round of qualifying:
Dwayne Wolfe clicked of a 5.84 at 244 and made it look easy due to his brother's Matt (Einstein) Wolfe tuning. Tommy Gray ran a 5.91 at 218 MPH because he broke a blower belt. Car was on a great pass. Harry Pappas / Dean Marinis team ran a 5.93 at 230 MPH testing converters. Jim Bersani clicked off an easy 6.06 MPH shutting it down REAL early with a new, smaller turbo combo. This car will be super-fast. Steve Dale driving Jeff Robertson's blower Camaro ran a 6.07 at 230 MPH. This was their first time running with this new combination and first time running 1/4 mile, super nice people.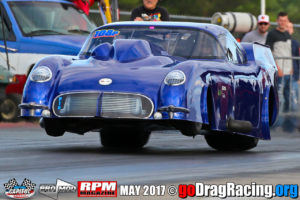 Ed Burnley ran a 6.16 at 182 MPH shutting it down very early. Tyler Hard had bad tire shake and still ran a 8.66 at 113 MPH coasting down Steve Drummond solved his electrical problems but found tire shake issues and still ran a 8.67 at 90 MPH. Kevin McCurdy ran a 9.44 at 99 MPH. More tire shake with carnage, Casey Stemper broke his transmission on the starting line and was pushed off. Thanks to the King / Miller team for helping them with parts and were able to fix the trans.
More of the same tire shake for Gary Hood, Craig Pio, Angela Ray Kinson, Nick Montana, Steve King, and Fred Scriba. Next qualifying round everyone expected to really improve as 12 additional cars listed in this memo are more than capable to run in the high 5 second range.
Due to on and off scattered rain and showers on Saturday, it was determined there would be no chance to get even another qualifying shot in and the race was cancelled at this time.