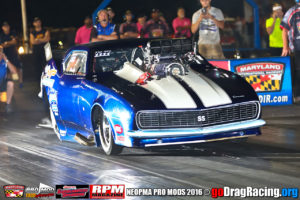 (Budds Creek MD. 9-23-24-2016) The hype was surely met as the Northeast Outlaw Pro Mod Association took center stage at the "Snap On Tools Racing Superchargers Showdown Nationals" on the famed surface of Maryland International Raceway "MDIR". The $10,000.00 payout to the winner had all racers ready to battle it out to the finish.
The weekend was started with Friday night qualifying under the lights and promising numbers erupted early with stellar five second passes already. Saturday morning the overcast and cooler day allowed almost everyone to gain more momentum into the upcoming eliminations. Tough competition made heavy demands on the racers machinery knocking five of our quickest cars out of the eliminations early with various race ending carnage.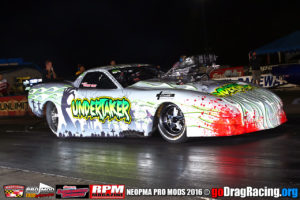 All of these racers were a showcase of the NEOPMA "five second club" with Dean Marinis in the Pappas/Marinis C7 Vette breaking a Transmission and Converter, Tommy Gray's "Undertaker" C6 Vette damaging the supercharger, Dwayne Wolf shattering a driveshaft and hurting the valves when the motor zinged to higher than normal RPM, Craig Pio returned only to have issues with his oil pan and Richard Wilson couldn't make the call. As you can see some of the quickest and fastest NEOPMA racers were done in qualifying leaving us a 16 car field.
1: Gary Naughton 5.864 @ 245: would capture the top two numbers in both speed and ET with the "Gil Christy" Pontiac GXP powered by a twin turbo DiSomma Racing Engines Hemi and a Gay Naughton Race Cars Chassis.
2: Steve King 5.913 @ 240: The team of Jell Miller Race Cars and Steve King as steering wheel technician would start making ground on this Al Bile's 521ci Supercharged Hemi combination 68 Camaro Pro Mod.
3: Robert Patrick Jr. 5.937 @ 238: The Purvis Ford ""Super Snake" Mustang was back and doing some damage with big numbers right out of the hole pushed on by Sonny's Racing Engines 903ci Ford Engine and Switzer Dynamics Nitrous.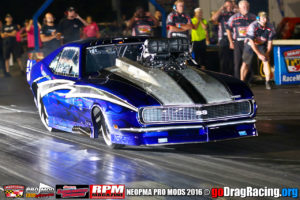 4: Kevin McCurdy 5.952 @ 237: The NEOPMA point's leader stayed in his safe zone getting from A to B each qualifying round in the Tim McAmis "Hard Racing" Supercharged Camaro.
5: Casey Stemper 5.996 @ 233: Last years "Rookie of the Year" has been stellar all season and again running these numbers with no data on the brand new "Fowler" Supercharged 63 Vette.
6: James Sartori 6.012 @ 236: Hats off to our newest NEOPMA member on his quarter mile debut appearance in this gorgeous 68 Supercharged Camaro out of "Sartori Racing" and Tube Chassis Designs.
7: Andy Jensen 6.129 @ 234: Jensen returns to MDIR as a crowd favorite sporting the only single turbo combination that runs this fast in this class. The 68 Camaro out of "Jensen Racing Engines" had fans in awe with carrying the tires past the 330ft mark.
8: Dave Norris 6.144 @ 230: Continually working at this combination, Dave Norris has been beating at the five second door each race. A tad off his pace the Supercharged Camaro could only garner this spot.
9: Fredy Scriba 6.180 @ 190: The "Sorcerer" 63 Vette has finally started making progress pulling down some great numbers as you can see this early shut off pass only netted him 190 so there's much more in this car for the upcoming rounds.
10: Jim Bersani 6.185 @ 235: The low slung 69 Chevelle with twin turbo Hemi power struggled with tire shake each pass, but Bersani would put everyone on notice with the power available to go 235 MPH.
11: Steve Assenmacher 6.309 @ 221: Always a standout for the small cube nitrous crowd, Assenmacher would have to take a traction limited best to get in the ladder pulling gears to this number.
12: Allan Juhasz 6.463 @ 215: Juhasz would continue to make progress in the new 70 Camaro with a mere 706ci nitrous combination, it was clean from point A to point B with a soft tune.
13: Rob Hunnicutt 6.518 @ 215: The "Legion of Doom" 894ci Chevy Cobalt fought tire shake issues each round trying to lay down big numbers, always a crowd favorite he'd get in the ladder.
14: Tony Braglio 6.740 @ 207: This gorgeous 67 Shelby Mustang out of "Kramer Brothers Racecraft" is the only "Procharger" equipped entry attached to a 540 ci Steve Morris Racing Engines" motor.
15: Gary Hood 6.876 @ 197: Only 622ci of naturally aspirated Chevy powers this Liberty shifted 63 Vette to awesome wheels up launches out of "Gary Hood Race Cars" shop.
16: Matt Deitsch Jr. 13.316 @ 87: Matt Jr. stepped into his father's Tim McAmis 68 Camaro with 855ci of Switzer Dynamics nitrous for his first time at this race having to pedal his runs; he's already got a handle on the launches.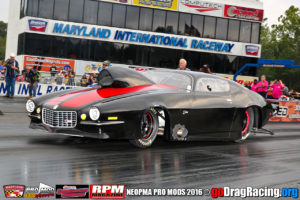 ROUND ONE ELIMINATIONS:
A sad twist of fate when number one qualifier Gary Naughton was to face Matt Deitsch when Deitsch couldn't make the call with flywheel problems it would allow a bye run for Gary Naughton who failed to start with battery issues and was DQ'd.
Dave Norris would pair up with a slower in qualifying Fredy Scriba. Norris 6.092 @ 232 could only look on as Scriba found his groove and planted a screaming 5.915 @ 235 on the boards for his win.
Rob Hunnicutt would suffer one of the largest nitrous explosions at the hit of the throttle knocking the scoop light years into the air and splitting the Chevy Cobalt's front end in half. It was contained quickly by the MDIR crew and his opponent Kevin McCurdy would lean on the Camaro to the tune of 5.945 @ 240. Casey Stemper would continue on against Allan Juhasz, Stemper's winning 5.986 @ 234 would overshadow Allan Juhasz' 6.50 @ 213.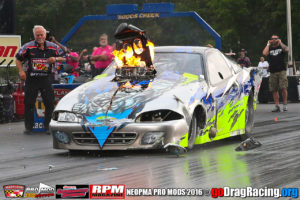 Gary Hood could have been the recipient of one of the day's biggest upsets paired with Steve King. Hood knew he was outnumbered and needed to cut a light as Steve King went into severe tire shake he already had the win light as Hood red-lit his chance away. Jim Bersani would also not make the call as Andy Jensen would move on with a solo run still trying to get that needed clean pass 9.622 @ 97.
Tony Braglio 6.734 @ 207 would use his consistency to his advantage as his 67 Shelby was always on a straight line, this time to victory over number three qualifier Robert Patrick Jr who went into immediate tire shake taking a loss in the first round. Steve Assenmacher would also suffer the tire shake blues hitting it hard against a winning James Sartori blistering the track with a solid 6.020 @ 236!!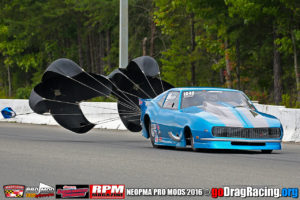 ROUND TWO ELIMINATIONS:
Fredy Scriba would enter the second round with a BYE run only to shake the tires shutting off early 7.780 @ 122. Kevin McCurdy would continue bracket racing his supercharged Camaro laying down a solid 5.973 @ 238 to a traction limited Casey Stemper's 6.532 @ 167.
HUGE close race was already in the lanes, the big supercharged power of Miller / King Vs the small cube single turbo that could of Andy Jensen. Jensen .012 would put a super light on Steve King's very good .038; King 5.938 @ 239 would drive around Andy Jensen 5.968 @ 240 and take the win by .004! Tony Braglio would put up a good effort 6.734 @ 208 but not enough against the powerful James Sartori's 6.019 @ 237.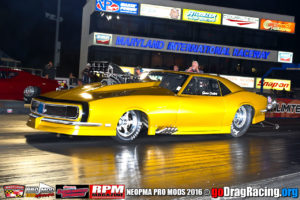 SEMI FINALS:
Though the cool air had come in the humidity was still high and the track still had some big teeth in it we were set for who would make it to the finals. Fredy Scriba would haze the hides on his burnout as Kevin McCurdy would also. Both racers staged as Fredy Scriba 5.916 @ 237 would light the quarter mile pipes ablaze to a big win again against Kevin McCurdy's supercharged Camaro trying to gulp enough air to pass him but it was not to be losing with a very strong 5.965. A very good first outing by James Sartori 6.02 would end against a slower Steve King 6.09 by way of a holeshot on the tree.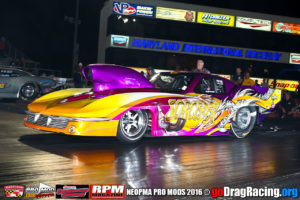 FINAL ROUND:
Both finalists pits were buzzing with action as both needed to do some heavy work for the upcoming final. King needed to find some extra ET and Fredy Scriba's team were working feverishly to replace pistons in the short time allotted. Both racers returned to the lanes as fans were on their feet, the cars sounded healthy and mean ready for action with tire shredding burnouts; both were in the beams as Fredy Scriba 6.23 could only watch shutting off early as Steve King ripped off a blistering 5.88 for the $10,000.00 purse and more points for the NEOPMA point's series.
NEOPMA Major Manufacturer Sponsors: American Racing Headers, Star Transporters / Renegade (Bernie Cochran), VP Racing Fuel, MSD Ignitions, Stupid Fast Tee Shirts
NEOPMA Associate Manufacturer Sponsors: ATI Performance, Penske Shocks, Goodyear Racing Tires, Ram Clutches, Neal Chance Converters, Vanishing Point Race Cars, Precision Turbo, HPL Synthetic Motor Oil
NEOPMA Supporting Club Members: Brian Hard "Hard Racing", Jim Barker "Barker Racing", Fred Scriba "Scriba Welding", "Pappas / Marinis Racing Team", Fifi Montroud, Craig Pio "Pio Racing", Dave Hance "New York Motorsports"
NEOPMA Officials:
Event Directors… John Mazzorana President / CEO, Rocco and Joanne Micciolo VP, Mark Tinari VP, Ray Staley, Mel Jones.
Photography / Web Site / MEDIA Relations, RPM Magazine … Mark Tinari VP, Tara Bowker of Black Rock Photography "Official NEOPMA Photographer"
Announcer and Tee Shirt Sales… "Rockin Rob" Cherkas and Caity Lady
Videos and Interviews… Jimmy Biggs