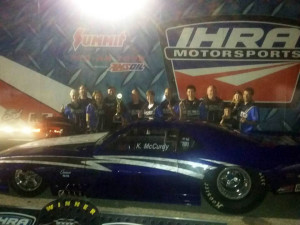 (6-19-2016 Budd's Creek, Maryland) Maryland International Raceway was once again the host of the Inaugural IHRA Presidents Cup Nationals fueled by Sunoco but this time with a twist. The Northeast Outlaw Pro Mod Association "NEOPMA" invaded the Pro Mod ranks with their own agenda of taking the win from the IHRA standouts. The highly regarded Northeast "Club" members flocked to the newly resurfaced MDIR pavement in hordes to virtually take over the class. The pits were filled with door slammers of all types, NEOPMA brought in the largest field in possibly a decade since the renewal of the class just last year. Fans were truly enamored by the 21 cars in attendance and their high expectations of IHRA performances were fulfilled in qualifying for a start.
1: Billy Harper in his "2000 Dodge Viper" took the number one spot and also set the newest IHRA ET record shattering it with a stellar 5.83 @ 235 under 900+ cubes of Sonny Leonard nitrous injected power.
2: Dwayne Wolfe was right behind in his Andy McCoy 68 Camaro featuring Mike Janis Hemi power under the supercharger. 5.850 @ 243 placed him well in the field and also captured TOP MPH.
3: Tommy "The Undertaker" Gray "2006 Supercharged Corvette" ripped off a mighty 5.889 @ 239 also taking the held over "Atco Night Of Thrills" final round in the second round of qualifying against Jim Bersani.
4: Angela Kinson "67 Shelby GT500" is back and just flat out flying as her hiatus last year didn't keep her from knocking out a string of sub six second passes. A 5.945 @ 236 was enough to also add her to the short list of being the fifth woman in Pro Modified to enter that zone via Mike Janis tuning and supercharger billet hat.
5: Kevin McCurdy "68 Tim McAmis Camaro" spun the supercharged hemi to the tune of 5.962 @ 239. Kevin was last year's NEOPMA Points runner up.
6: Tyler Hard "68 Tim McAmis Camaro" and last year's NEOPMA Points Champion was able to place well with Reher and Morrison 903ci aspirated by Switzer Dynamics lighting the boards 6.009 @ 239 on a soft tune.
7: Robert Patrick Jr "2014 Jerry Bickel Shelby Super Snake" returned to the ranks pushing the Sonny Leonard Switzer Dynamics nitrous ingesting 903ci Ford to a solid 6.019 @ 237 under the "Purvis Ford Drag Racing Team" banner.
8: Steve King "1968 Supercharged Camaro" twisted the mighty Hemi to a strong 6.028 @ 232 trying to keep the front tires on the ground of the JMP "Jeff Miller Performance" Camaro behind the power of the Al Billies supercharger.
9: Casey Stemper "Supercharged 63 Vette" continues to stay right near his superb numbers spinning the "Folwer Blown" hemi to its limits 6.031 @ 222 with the "Innovative Performance Racing Team" Stemper was named NEOPMA's 2016 "Rookie Of The Year" and deservedly so.
10: Ed Burnley looks to be gaining ground on his completely revamped "67 Camaro" now sporting 903ci and electronic fuel injection; his best pass netted him a solid 6.060 @ 224
11: Mac McAdams "Supercharged 53 Corvette" has been creating havoc in the NEOPMA series with amazing performances; a bit off his usual numbers his final placing netted him a very good 6.063 @ 233.
12: Fredy Scriba "63 Vette" aptly named "The Sorcerer" has been at odds with getting from "A to B" trying to harness the full output of the Switzer Dynamics nitrous ingesting 903ci Fulton. There's so much more in this car but they had to settle on an off pace 6.099 @ 234 on a soft tune.
13: Jim Bersani "1969 Vanishing Point Race Cars turbocharged Chevelle" still creeping up on this brand new combination, the twin turbo hemi under the sleek Andy McCoy race cars Chevelle body eased out a 6.132 @ @ 232, this car is quickly becoming a fan favorites!
14: Raymond Matos "2013 Camaro" jumped into the IHRA/NEOPMA field credibly placing well with 903 cubes and nitrous leaving a 6.339 @ 190 on the boards.
15: Ruben Tetsoshveli "1970 turbocharged Camaro" this IHRA regular placed well with Nelson Racing Engines hemi power behind the twin turbos staying in the lower half 6.508 @ 174.
16: Matt Deitsch "68 Tim McAmis Camaro" finishes up the qualified ladder with traction limited 6.578 @ 211 featuring Reher and Morrison cubes paired with Switzer Dynamics nitrous.
17: Steve Kramer "1967 Shelby Cobra", the only "Procharger" equipped car in the field from "Braglio Motorsports" is just off the pace to stay in the upcoming rounds 6.605 @ 215.
18: Allan Juhasz "1970 Camaro" is still wringing out this brand new car, less than two races under his belt with it, he's made great progress 6.680 @ 197.
19: Gary Hood "Gary Hood Race Cars 63 Vette" comes into this race as the only "All Motor" entry sporting 600 cubes, hard wheels up launches were pleasing to the fans but the 6.802 @ 199 wasn't enough.
20: Dave Norris "1968 Camaro" struggled with tire shake from the supercharged hemi having to pedal the car to a 7.079 @ 208.
21: Gary Courtier "1968 Camaro" the former NEOPMA Champion battled electrical gremlins all weekend in the newly rebuilt Camaro with Reher and Morrison plus Switzer Dynamics providing more than enough power to get him and the team back into the five second zone soon.
ROUND ONE ELIMINATIONS:
Hot and gooey is how the track would have been described as first round was called in the blazing heat of the day, track prep is always of concern but even the best like IHRA can still leave a decent surface despite the 130+ track temps trying to harness this big horsepower.
Allan Juhasz would come into this round as an alternate for Billy Harper unable to repair catastrophic engine damage to face off against Matt Deitsch. Juhasz would light the tires up immediately giving Deitsch the lone track to muster a 6.182 @ 224. Gary Hood would also suffer the same result as he was inserted as an alternate for Casey Stemper, he broke the tires loose 12.687 @ 66 while Steve King would take the win light pedaling to a 7.399 @ 165. Jim Bersani 9.172 @ 109 met his match losing to an off pace Angela Kinson's winning 6.272 @ 182. Fredy Scriba tried to manage the power but fell short 6.144 @ 233 as Kevin McCurdy stayed on track moving on just slightly falling of his pace in the heat 6.031 @ 240. Ruben Tetsoshveli would slow with tire shake 7.292 @ 174 as Dwayne Wolfe would power out an astounding 5.899 @ 244! Ed Burnley jumped big time leaving a red light on his side -.273 6.570 @ 224 as Robert Patrick Jr. went into immediate tire shake and only had to take the long stroll down the 1320 for his round win. Tommy Gray 6.761 @ 202 was well off his pace pedaling for his win against an early shutoff by Raymond Matos. The end of this session concluded with a brutally close heads up race between Mac McAdams and Tyler Hard. Both left with nearly identical reaction times heading to the finish line McAdams would cut the beams winning 6.065 @ 230 with Hard just nipped at the stripe 6.075 @ 237.
ROUND TWO ELIMINATIONS:
The track was beginning to tighten up as the field now consisted of all NEOPMA members well acquainted with MDIR's surface. This set of rounds was surely going to be a knock down fender to fender session.
Matt Deitsch although quicker 6.239 @ 229 lost on a holeshot by Steve King getting out early and aggressively cutting a decent path to the finish 6.268 @ 233. Angela Kinson also fell to the same fate; her reaction time stopped her chance to win with a quicker 5.943 @ 237 while Kevin McCurdy was out strong and blistering to the top end 5.962 @ 241. The MOV at 240MPH was .029! Dwayne Wolfe put together an almost unbeatable package for most of the racers out there but Robert Patrick is always a threat to "Bust a Number" at any time. Patrick was able to get the car down the track on a soft tune netting him a 6.040 @ 239 but just wasn't enough for Wolfe's stellar 5.895 @ 245 as he moves on. Tommy Gray's day was finished at the 1,000ft mark when the blower belt let loose and cost him a chance to move on, his opponent Mac McAdams laid down a very strong 6.069 @ 233 for the win light.
SEMI FINALS:
The bite on the track was at its maximum now, cooler temps made aggressive tune ups a hair pulling experience for the teams. Mac McAdams 7.230 @ 136 took a solo pass into the finals as Dwayne Wolfe had suffered some engine damage on his last pass and time constraints didn't allow for a repair. McAdams was not capable of acquiring some better data coming from tire shake and a partially aborted pass. Steve King paired with Kevin McCurdy; both have been doing well in NEOPMA series points. King was out and moving and the tires began lifting near the 500ft mark as King would have to lift 6.539 @ 162 while McCurdy had his sights on the fives again he light the win light with a brilliant 5.962 @ 241.
FINAL ROUND:
Comradery ensues as other teams rallied to the aid of fellow racer Mac McAdams who found the supercharged Vette unable to start with a broken flywheel. Kevin McCurdy and IHRA wanted a two car final and repairs were made to McAdams ride as McCurdy was the ultimate sportsman, his generosity could possibly come back to bite him but that's the kind of competitive sportsmanship you find racing the NEOPMA series. It was all over at the green when Mac McAdams hit the loud pedal the car just rolled over the tires in extreme shake and Kevin McCurdy would be at the stripe in 6.036 seconds at 236MPH for his first ever IHRA Appearance and Win!
IN CONCLUSION:
By NEOPMA President John Mazzorana
Great Race, Fast Cars, Good Fun at the Presidents Cup.
I want to thank Mike Dunn, Royce Miller and the entire MDIR/IHRA team for the warm welcome and well run race. NEOPMA and our sponsors appreciate you letting us display our sponsor banners. The track was great, working relationship friendly! and overall show was entertaining and fun. Twenty one Pro Mod racers attended…a new IHRA record. We were happy to be a part of this fine event.
NEOPMA Major Manufacturer Sponsors: American Racing Headers, Star Transporters / Renegade (Bernie Cochran), VP Racing Fuel, MSD Ignitions, Stupid Fast Tee Shirts
NEOPMA Associate Manufacturer Sponsors: ATI Performance, Penske Shocks, Goodyear Racing Tires, Ram Clutches, Neal Chance Converters, Vanishing Point Race Cars, Precision Turbo, HPL Synthetic Motor Oil
NEOPMA Supporting Club Members: Brian Hard "Hard Racing", Jim Barker "Barker Racing", Fred Scriba "Scriba Welding", "Pappas / Marinis Racing Team", Fifi Montroud, Craig Pio "Pio Racing", Dave Hance "New York Motorsports"
NEOPMA Officials:
Event Directors… John Mazzorana President / CEO, Rocco and Joanne Micciolo VP, Mark Tinari VP, Ray Staley, Mel Jones.
Photography / Web Site / MEDIA Relations, RPM Magazine … Mark Tinari VP, Tara Bowker of Black Rock Photography "Official NEOPMA Photographer"
Announcer and Tee Shirt Sales… "Rockin Rob" Cherkas and Caity Lady
Videos and Interviews… Jimmy Biggs