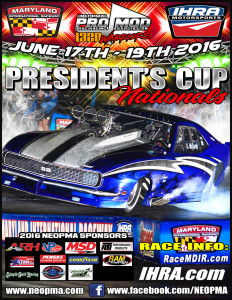 On behalf of all of us at NEOPMA… we are delighted to work with IHRA in partnership to bring a super Pro Mod event to the Presidents Cup June 17-18. I am especially excited that the club will bring amazing participation. This should be a great event as we expect to bring lots of club cars and especially some super-fast elapsed times with the new smoother surface at MDIR.
Thanks to Mike Baker and Royce, several months ago the NEOPMA partnered with IHRA to bring some of the fastest Pro Mods in the country together at one of the best, fastest, safest tracks in the country. Because this is expected to be one of best races in this area we had to slightly modify our normal race schedule.
Thursday: Parking and Tech 5PM to 9PM. There will be an all-day test session on Thursday
Friday: Parking and Tech 9 AM to 9 PM plus two qualifying rounds (7 PM and 9 PM)
Saturday: Parking and Tech plus one qualifying round at Noon and Eliminations 1. 2PM, 2. 5PM, 3. 7PM, 4. 8:30PM.
I am also delighted to report that we are expecting 24-28 NEOPMA cars plus several IHRA racers so the field will be really fast. Given the new track surface we should see lots of cars running in the 5:80's – 5:90's. Bring your "A" game!! This should be lots of fun.