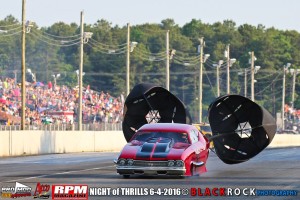 (Atco New Jersey 6-4-2016) The Northeast Outlaw Pro Mod Association "NEOPMA" set out to wow the fans in the third race of the 11 race series with a full house attendance at Atco Raceway's Annual "Night of Thrills". Teams came as far away as West Virginia, Connecticut and Canada to participate. NEOPMA Series President "John Mazzorana" and Atco Owner "Len Capone" had put together this fantastic array of teams to compete on this exciting night with two qualifiers and full rounds scheduled from a 16 car field. Added attractions of Jet Dragsters, Funny Cars, Monster Trucks, Wheel standers and a special "Import Invitational" rounded out the days planned event.
CLICK HERE: Complete Drag Racing Photos Gallery By Tara Bowker Black Rock Photography
CLICK HERE: Complete Drag Racing Photos Gallery By goDragRacing Mark
As the date came near, weather forecasters were expecting a series of thunderstorms and rain to dampen the activities, as usual they were 100% wrong and the fans enjoyed a beautiful day in the New Jersey Pines, by 4 o'clock the stands were filled to capacity under an extremely hot gorgeous sunny day. The cars of the teams involved really shined as rounds began after two qualifiers.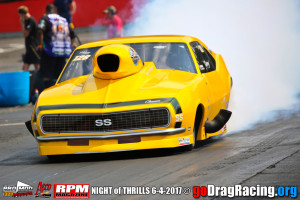 By 3PM final qualifying had sixteen cars ready to do battle on Atco's renowned 1320ft of race track.
1- Dwayne Wolfe "Supercharged Camaro": Dwayne ran his best number right off the trailer, the 2014 NEOPMA Points champion had his car primed and ready posting best ET and MPH of the sessions with a blazing 5.969 @ 240.00 flat.
2- Bruce Boland "Supercharged Camaro": All the way from Canada, Bruce put on a great showing and earned this spot with a belt driven 6.088 @ 237 blast.
3- Kevin McCurdy "Supercharged Camaro": Last year Kevin wound up placing second in NEOPMA Points. A little off his normal sub six second passes, Kevin had to pedal his way to a 6.126 @ 236.
4- Casey Stemper "Supercharged Vette": This young man is just phenomenal, with a traction limited 6.149 @ 226 he's solidly in the field.
5- Fredy Scriba "Nitrous Vette": Still shaking down the new big inch motor and EFI, he's coming around grabbing gears to a good 6.203 @ 223.
6- Gary Courtier "Nitrous Camaro": Gary's first full passes on his completely redone Camaro netted him his best yet 6.250 @ 225 lifting.
7- Steve King / Jeff Miller "Supercharged Camaro": Steve King had to pedal the big power from the blower motor in the heat of the day putting a 6.382 @ 230 on the boards.
8- Andy Jensen "Turbocharged Camaro": The fans love this car, Andy had some trouble bringing in all that turbo power hiking the wheels up to the 330ft beams keeping him from making one of his sub 5 second passes.
9- Brian Conrey "All Motor Vette": Talk about a crowd pleaser, this gorgeous early Vette pulled off some amazing wheels up launches definitely hurting his ET's expect this car to come around! 7.108 @ 194
10- Craig Pio "Turbocharged Corvette": Some handling issues put Craig close to the wall and he couldn't lay down all the power from the twin hair dryers 7.366 @ 193.
11- Jim Bersani "Turbocharged Chevelle": This brand new sleek Vanishing Point Race Cars, Andy McCoy bodied 69 Chevelle is a sleek as the wind. Jim's semi-full passes were in reality a primer for what was to come 9.174 @ 102.
12- Tommy Gray "Supercharged Corvette": Breaking traction and tossing a blower belt kept Tommy "The Undertaker" out of his usual TOP 3 qualifying numbers, 10.823 @ 78.
13- Angela Ray Kinson "Supercharged Shelby Mustang": Back from a long hiatus, this young lady had to try and manage a whole new set up featuring a new Mike Janis Racing Engines Billet Blower Hat, making tons of power down low not able to keep it glued to the track 11.695 @ 55.
14- Steve Assenmacher "Nitrous Ford Probe": Steve also had issues with planting the tires aborting runs that could have been, 12.817 @ 58.
15- Allan Juhasz "70 1/2 Nitrous Camaro": Right out of the trailer and onto the track with this brand new car. No testing kept him from getting off a good pass and some short bursts to get acquainted with this new car, 15.635 @ 75.
16- Scott Woodington "Nitrous Corvette": Scott blew through the tree before the lights came down nullifying his passes with a trans brake issue. He didn't post any real ET from those passes but he's in the running.
ROUND ONE ELIMINATIONS: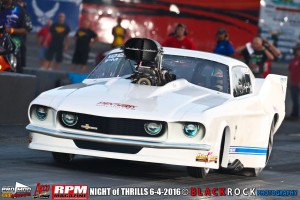 After opening ceremonies were finished the sound of Pro Mods rang out through the Jersey Pines to a seated full house. Dwayne Wolfe would face Scott Woodington, Woodington couldn't start and Dwayne Wolfe would be issued a single pass netting him a screaming .185 – 5.986 @ 241!
Brian Conrey would be opposite of Andy Jensen, Conrey takes the tree .021 to Jensen's .071 as Conrey again launches high breaking traction 11.928 @ 93 and Jensen is off on a still "off pace" 6.345 @ 217.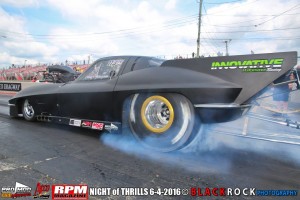 Casey Stemper could not make the call and opponent Angela Kinson takes a bye run 10.964 @ 79 to proceed to the next round.
Fredy Scriba and Tommy Gray were almost dead even on the tree .081 to .084 respectively. Scriba 12.722 @ 66 and Gray both get loose and Gray recovers for the win 7.373 @ 143.
"A Tale of Two Camaros" Bruce Boland in the classic 68 Camaro body against Allan Juhasz in the low and sleek 70 1/2 style. Boland rips off a strong 6.067 @ 242 for the win as Juhasz is still getting his feet wet in this new car 16.915.
Steve King's Pairing would be against a well-known five second car with Craig Pio at the wheel. Both cars blazed through the burnouts when Pio suffered terminal transmission damage and needed to be backed out from leakage sending Steve King on a single pass netting him no data from jaw breaking tire shaking 11.347 @ 78.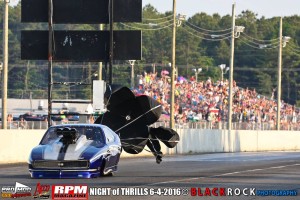 Kevin McCurdy who is unusually good on the tree tossed away his first round with a -.015 red-light and brilliant heat of the day 6.076 @ 238 against Steve Assnemacher's winning and shut off early .096 – 6.579 @ 174.
Two basically new cars, both drivers with little seat time and new combinations would face off, Gary Courtier in his brilliant yellow nitrous Camaro with Switzer Dynamics spraying into the big Reher and Morrison motor and Jim Bersani in the "Ultra Low" 69 Chevelle on twin turbo Hemi power. Courtier couldn't recover from short shifting through tire shake taking a loss 7.390 @ 140 as Jim Bersani would haze the track to his win light 6.207 @ 226 clicking off a little early into the run.
ROUND TWO ELIMINATIONS: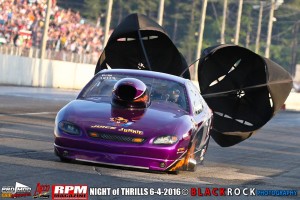 With the sun beginning to set and track temps lowering from the 120+ earlier in the day round two would commence with Dwayne Wolfe and Andy Jensen pulling into the water box. Dwayne Wolf who is known for being deadly on the tree jumped early and red lit an hard to beat pass away -.032 – 6.077 @ 224 as Andy Jensen hiked the front tires in the air and drove it out to a 7.049 @ 156.
The Ford vs. Chevy had to come about and it was Angela Kinson against Tommy "The Undertaker" Gray. Both left well on the tree and the supercharged motors struggled to inhale the 4,000ft plus air. Kinson was behind 7.379 @ 134 as Gray was making decent power to net him a winning 6.134 @ 239.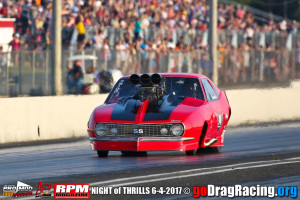 Canadian entry Bruce Boland couldn't make the call leaving Steve King on a solo pass, he delighted the crowd with his stellar burnout and screaming 6.041 @ 239 to move on.
Steve Assenmacher had his hands full as he would pair with Jim Bersani feeling the car coming around now. Assenmacher with a smaller than usual 738ci motor is capable of a 6.10 or better in the heat but his -.011 reaction time gave him an instant loss and a chance to beat his opponent as Jim Bersani took an easy pass 7.574 @ 129 to finish off this session.
SEMI FINALS:

FINALS:

NEOPMA Major Manufacturer Sponsors: American Racing Headers, Star Transporters / Renegade (Bernie Cochran), VP Racing Fuel, MSD Ignitions, Stupid Fast Tee Shirts
NEOPMA Associate Manufacturer Sponsors: ATI Performance, Penske Shocks, Goodyear Racing Tires, Ram Clutches, Neal Chance Converters, Vanishing Point Race Cars, Precision Turbo, HPL Synthetic Motor Oil
NEOPMA Supporting Club Members: Brian Hard "Hard Racing", Jim Barker "Barker Racing", Fred Scriba "Scriba Welding", "Pappas / Marinis Racing Team", Fifi Montroud, Craig Pio "Pio Racing", Dave Hance "New York Motorsports"
NEOPMA Officials:
Event Directors… John Mazzorana President / CEO, Rocco and Joanne Micciolo VP, Mark Tinari VP, Ray Staley, Mel Jones.
Photography / Web Site / MEDIA Relations, RPM Magazine … Mark Tinari VP, Tara Bowker of Black Rock Photography "Official NEOPMA Photographer"
Announcer and Tee Shirt Sales… "Rockin Rob" Cherkas and Caity Lady
Videos and Interviews… Jimmy Biggs