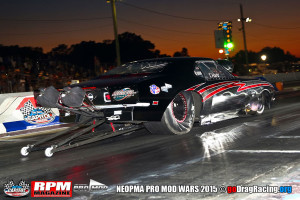 This has become a battle of the team-mates for number one and two since the NEOPMA Pro Mod Series began this year. Tyler Hard in his Nitrous McAmis Camaro and Kevin McCurdy also McAmis but with Supercharger power have been on each others tails dominating the points series from day one.
Very few races have not had at least one car from "Hard Racing" in a final or semi final racking up precious points. Kevin McCurdy as of the last race at Capitol which was rained out after one qualifier on Friday night and leading Tyler Hard by the most minimal of numbers took the extreme measure using Tyler Hard's earlier ride, a T/S Camaro to gain points. Many racers advanced in points also during the last two races, notably Fredy Scriba in the "Scorcerer Vette" coming on strong in the later races after a tough first half.
Steve Assenmacher in what anyone would have to consider to be THE QUICKEST 738ci Pro Mod out there hangs tough in number four also. Stay tuned as the NEOPMA Pro Mod Drag Racing Series has two remaining dates for racers to gain momentum into the Season Finale' At Atco Raceway.
UPDATED COMPLETE NEOPMA POINTS: http://neoutlawpromods.com/points/2015-pro-mod-points/
NEOPMA EVENT SCHEDULE: REMAINING DATES  http://neoutlawpromods.com/2015-schedule/
STAGED: IN THE BEAMS
September 25th – 26th NEOPMA 3rd Annual MDIR Pro Mod Challenge "Supercharger Showdown"
PRESTAGED:
October 17th NEOPMA Series Season Finale' Atco Dragway's "OUTLAWS AT ATCO" Featuring The Northeast Outlaw Pro Mods 1/4 Mile Drag Racing