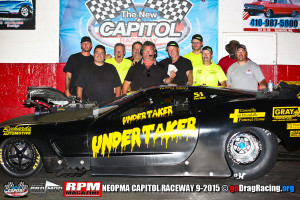 Coming into this race, The New Capitol Raceway had upped the ante' by placing a bounty on the sitting Pro Modified Drag Racing Record held by Robert Patrick with a 5.90 blast in the last event held at this fine facility. With One Thousand dollars up for grabs to the first who could run below this number 5.89 or quicker came the spoils and bragging rights since the weather had turned for the best as the first set of cars headed to the lanes in cooler air on Friday Nights first session under the lights. The eighth race in the NEOPMA series was under way as many racers got a good read on the track and made their best attempts with some getting very close, this would include Tyler Hard on a blistering 5.92, which was great but not the money shot. Fredy Scriba was right off the trailer and into the five second zone immediately laying down a 5.98, still not in the money but a great first qualifier for this team.
Then came the run of the night! Tommy Gray in the "Undertaker" Corvette had been doing quite well running insane numbers most of the year, decided to really bury the record on a straight as an arrow pass lighting the boards with a belt driven blast of 5.846 @ 243!!, Racing was just about halted as the team returned back to the winners circle to collect their winnings while at this point racing resumed. NEOPMA already had 15 cars on Friday night with more coming in on Saturday but no one can stop mother nature with forecasts early on Friday looking reasonable at a 30% chance of rain the next day to a large front coming up the coast everything changed drastically to a full on 90% chance the rest of the day Saturday. Both Capitol Raceway and NEOPMA chose to end the race at 11AM due to this forecast. The race had no rain date and the tight schedule doesn't allow for another. Capitol Raceway has made HUGE leaps in their outstanding surface, Jimmy Bradshaw and his team has this 1320ft of asphalt figured out, the racers know this well and always look forward to another upcoming race here in the future.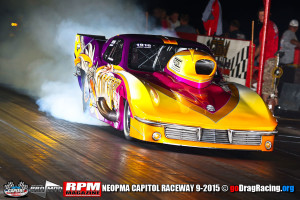 Qualifying Highlights from Friday Night:
Tommy Gray of course had that amazing pass, not too much to say about this other than WOW! placing him solidly in number one with his 5.846 @ 243, Tyler Hard gave the fans his Switzer Dynamics "Hyper Tune" lighting the night sky with pipes ablaze on his way to 5.929 @ 240 laying down some good MPH. Dwayne Wolfe comes back strong after a few setbacks with engine issues, the team has it dialed in pretty well back into the fives with 5.968 @ 238. Fredy Scriba was on a roll these last few races getting a grip on the bigger cube motors; he lit up a 5.984 @ 238 as a reminder to all it's a small tune up. Casey Stemper really has been having a great year as a newcomer to this type of racing as he has jumped from ADRL / PDRA style cycles right into Pro Mod with little to no learning curve. They have been creeping up faster on supercharged power netting them a very strong 6.074 @ 228 pedaling.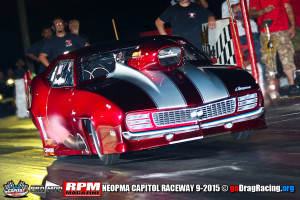 Chuck Mohn, one of the nitrous fans favorites gave them what they wanted! "Fire In The Hole" straight down Broadway though he had to lift on the top end, the car is fantastic to watch 6.092 @ 229. One of the smallest combinations at only 738ci, Steve Assenmacher drove through tire shake to a very good 6.192 @ 229, followed by Jeff Rodgers in the "Executioner" Mustang, also a smaller combination, he had this "Stang" wheels up and still clicked off a 6.238 @ 230. Allan Juhasz may have had his best pass yet with his new bigger cube motor, another pipes blazing pass earned him a 6.529 @ 213. Point's leader at this time Kevin McCurdy was in a completely different element in the "Hard Racing" Top Sportsman Camaro. McCurdy seems like he can drive just about anything you put him in, and did so with a clean 6.559 @ 186. Not many pro mods in 1/4 mile racing wind up in a wheelie at 330ft unless you're Matt Deitsch Sr., his wild Camaro just blasted off the line as he pulled gears it was going towards center and getting some big air pedaling to 8.080 @ 116. We're still watching Gary Hood of Gary Hood Race Cars closely as his brand spanking new Vette is going through some new car bugs; he's got a gorgeous ride when it's all sorted out 8.141 @ 120. Robert Patrick was the last out in the left lane and shook hard at the hit; I believe it was a .941 60ft that propelled him to 10.496 @ 84 just on that alone!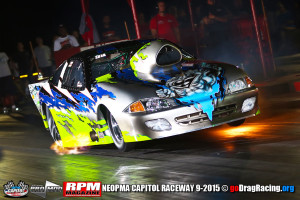 Matt Deitsch Jr. Followed up having to dump his run 13.225 @ 94, as did Rob Hunnicutt in his Cavalier which at the hit was mixing up cylinders and putting the wheels high in the air his time was incorrect as get this "A Large Moth tripped the beams", yes, that's for real.
All in all the racers felt there would be another day left and two more qualifiers but rain ended this race prematurely. The staff at Capitol is doing amazing things with this track having numbers like this on any given night proves their status as one of the quickest tracks in the Mid-Atlantic States.
NEXT NEOPMA EVENT: September 25th – 26th NEOPMA 3rd Annual MDIR Pro Mod Challenge "Supercharger Showdown" http://neoutlawpromods.com/september-25th-26th-2015-neopma-mdir-supercharger-showdown-spectacular/
NEOPMA PROUDLY DISPLAYED SPONSOR BANNERS AND ANNOUNCED THEIR NAMES AND PRODUCTS. THANKS TO OUR SPONSORS: American Racing Headers, Renegade/Star Transporters, MSD Performance Products, Stupid Fast Tee Shirts, VP Racing Fuels, Goodyear Racing Tires, ATI Performance Products, Ram Clutches, RPM Magazine, G Force Race Cars, Star Cab Company, Scriba Welding, Barker Racing and Dave Hance New York Motorsports.
More and continued thanks to our NEOPMA Officials …Rocco and Joann Micciolo (Event Management), Mark Walker and Tara Bowker "Black Rock Photography" (Photography / Web site Management), Rockin Rob Cherkas and Caity Lady (Announcements and Tee Shirt Sales).