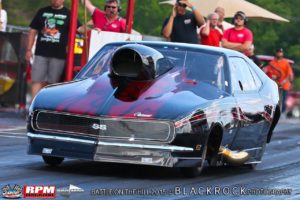 Tyler Hard of "Hard Racing" took it to a single round at the year end Season Finale' to take the 2015 NEOPMA Points Championship over teammate Kevin McCurdy. The final round came down to both racers throughout the year running side by side for this honor.
This has become a battle of the team-mates for number one and two since the NEOPMA Pro Mod Series began this year. Tyler Hard in his Nitrous McAmis Camaro and Kevin McCurdy also McAmis but with Supercharger power have been on each others tails dominating the points series from day one.
Very few races have not had at least one car from "Hard Racing" in a final or semi final racking up precious points.