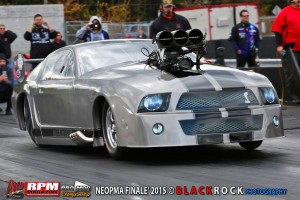 It's been a long run to the finals and of course the coveted NEOPMA Points Championship this year. Team "Hard Racing" had set a goal to take the championship places "One and Two" in the first press release statement as our season began. Team owner Brian Hard, "Hitmen" Tyler Hard and Kevin McCurdy would come out swinging for the fences and never fall lower than positions one and two, just a little jostling through the season the final race would come down to a single round for them.
Atco Raceway welcomed NEOPMA in their "Outlaws At Atco" series Saturday with NEOPMA being the show, people wanted to see big numbers. Running 5's on a local track in cold conditions wasn't out of reach, the racers provided the fans with BIG numbers and MPH in the full 1/4 mile from first round of qualifying to the end of the race.
QUALIFYING HIGHLIGHTS: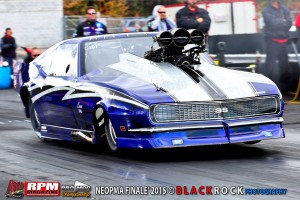 Kevin McCurdy put up an astounding number in his final qualifying pass netting him his "Best Ever" 5.817 @ 245, the car was poetry in motion charging wheels up on the launch and high up on the tires at the stripe. Rookie to the NEOPMA series and actually Pro Modified racing "Casey Stemper" with his roots in Outlaw Motorcycle racing also laid down his best ever and first "5 second pass" to take the number two spot 5.960 @ 233.
It didn't take long for the team of "Pappas / Marinis" to get some tweaking done to the gorgeous brand new C7 Vette out of Jerry Bickel Race Cars. The Vette with Dean Marinis at the wheel responded to the adjustments to the tune of 5.987 @236 placing number three and again their first time in the fives with the car! First time out running with the NEOPMA 1320 warriors, Al Mortorino came all the way from Canada to lay down a strong 5.999 @ 243 on American soil in his stunning Supercharged 2008 Mustang.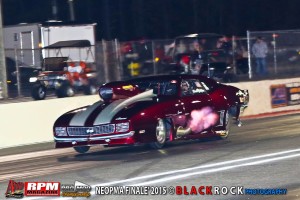 Points leader Tyler Hard suffered from massive tire shake in his qualifying finally driving through it placing him 5th in the ladder, keeping him above Kevin McCurdy in points by a mere "3" now. The Switzer Dynamics tune up was in full blossom out the pipes garnering him a 6.046 @ 233. Chuck Mohn in his gorgeous Camaro had struggled much of the year getting all that big cube power down with excessive tire shake but managed a fine 6.056 @ 230. Always a crowd favorite, Single Turbo entry "Andy Jensen" was off his pace yanking the tires he had to drive a little more than he wanted to reign in his 6.112 @ 233. Gary Naughton in the Gil Christy Motorsports GXP had tons of MPH but still is lacking in matching his ET, don't worry, this team will have it together fast as it's still a fairly new car and Gary still getting used to the "Turbo's" they clicked off a stout 6.120 @ 242.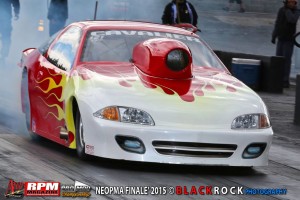 Todd Fontana joined the fray in his beautiful red Camaro, though off his pace he still manages a pedaling 6.432 @ 212. Alan Juhasz on his local track is still trying to familiarize himself with his bigger "Fulton Power" making strides at each event in his Grand Am. Not quite laying hard into the spray yet, he's moving in the right direction with safe tunes equaling 6.576 @ 204. Young Matt Deitsch Jr. found some clutch issues keeping him from making his usual strong sub six second pass managing to click off a 7.142 @ 188 after thrashing to repair the liberty transmission. Val Smeland took this opportunity to run his "Pro Stock" 2010 Cobalt in the mix, his passes were quite good ending with 7.149 @ 149. Steve Assenmacher at this point still very strong in the points run with his "Little" 738ci had transmission problems falling well off his usual low six second passes. Jack Grainy all the way from Canada could not compete after his long trip as his NHRA License had expired and was not allowed to run; we were so looking forward to him making passes.
ROUND ONE ELIMINATIONS:
Qualifying in the cool weather and the ultra-tacky Atco surface created some breakage that affected the pairings in the ladder with quite a few bye runs. NEOPMA is always proud to bring 20+ cars to an event but with the season we've had, performances rocketing many of our usual racers had committed themselves to begin rebuilding for next year as the Points Championship was out of reach for everyone other than Tyler Hard and Kevin McCurdy.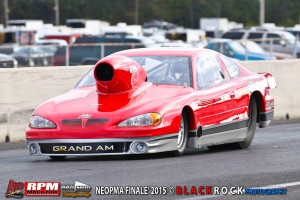 Kevin McCurdy would take his bye run and try to get some data shutting off early 10.549 @ 82. Andy Jensen could not make the call and left Gary Naughton to run his out by himself getting loose on the top end he pedaled out of it clicking off early 11.139 @ 83. Tyler Hard would launch the black and red Camaro high into a wheelie settling down to fall well off pace only mustering a 6.439 @ 231 as opponent Allen Juhasz would have a transmission failure on his run stop him from making a decent pass strolling through the traps. Al Mortorino again dips deep into the fives taking out Young Matt Deitsch still at odds with his transmission problems. Mortorino advances with a stellar 5.942 and a blistering 244 MPH.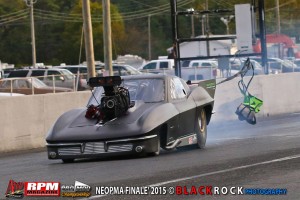 Young Casey Stemper pulls off an incredible save during his win against Steve Assenmacher who succumbed to, you guessed it, transmission problems. Stemper was on a brilliant pass when at the 800ft mark his supercharged Hemi began self-destructing. At one point up on three tires and chunks of billet aluminum were flying, Stemper reigned in the Vette as his wild ride slowed to a 6.536 @ 174. Dean Marinis has become more confident with the Harry Pappas C7 Vette. The changes to the three speed and Dean's own work with the "Lock Up" torque converter has already proved the little "BES 822ci" can produce power and also get him to the 1320ft mark in under six seconds with a stout 5.991 @ 237. Val Smeland would be in the opposite lane having to shut of early. Todd Fontana would take his round win 6.398 @ 214 as Chuck Mohn couldn't find the ET he needed to stay with him in his loss 6.589 but a very good 228.
ROUND TWO ELIMINATIONS: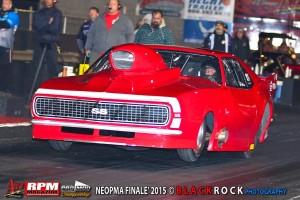 After Casey Stemper had windowed his engine in the earlier round, the cleanup was somewhat lengthy due to all the razor sharp shrapnel scattered on the back half of the track, Atco Raceway made sure none of it would cause any disastrous effects as the screaming hot aluminum burned its way into the pavement. The sun had begun to set and a very cold chill now was over the track with an enormous black cloud hanging over our heads, temps were dropping fast.
Kevin McCurdy would be the first out in his pairing with Gary Naughton. McCurdy would have to pedal his way to a win 6.285 @ 240 not knowing Gary Naughton had again gotten loose on the back half shutting off early 8.323 @ 96. McCurdy needed this win and as it stood now had the win to advance him above Tyler Hard in the Championship Points race.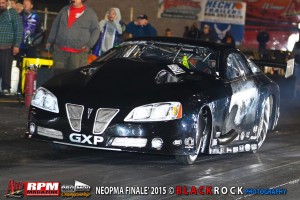 Now down one round and behind in the points as Tyler Hard would meet a very quick Al Mortorino, Hard had to win this round to regain his lead. Al Mortorino could end Tyler Hard's hopes on this one pass, the excitement was incredible as they staged. All eyes were on Tyler Hard launching into fiery exhaust and tire shake, shutting off early barely making it to the finish line. As we all focused on Hard, Al Mortorino was eclipsing the end of the track slowing to a 8.654 @ 106 as he had ended his race at the tree with a -.002 red-light handing the win to Hard!! Tyler Hard Stated later "I didn't know I had won the race, I couldn't hear my team over the headsets. I was pretty happy I escaped that one which we later found out it was a cracked spark plug that caused it and we'd be in good shape for the Semi's"
Casey Stemper couldn't make the call after his engine detonation leaving Dean Marinis to match up with Todd Fontana. Fontana drilled the tree .014 to Dean Marinis' late .141. Marinis 6.045 @ 235 was able to play catch up on the big end overtaking Fontana 6.216 @ 208 by a mere .044 at the stripe! Marinis would now have a bye into the next round and also the finals.
SEMI FINALS: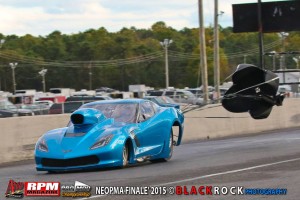 We were now well into the evening as a long oil down had to be cleaned up from a class earlier, during that time temps were dropping dramatically to 42 degrees and track temp in the low 50's, as racing was about to begin; a light mix of rain and snow began to cause concern as that black cloud finally opened up. It took all Atco had to muster up a safe track but again temps and safety were of immediate concern. Tyler Hard was paired with his team mate Kevin McCurdy and Dean Marinis was ready for a bye run into the finals being the quickest of the latter rounds.
With concerns of the speeds and the frigid conditions with temps as they were, Kevin McCurdy stated he wasn't %100 to face Tyler Hard and all parties would end the race at this point leaving Tyler Hard as the 2015 NEOPMA Points Champion in his amazing Tim McAmis, Switzer Dynamics nitrous Camaro. Congratulations on a long battle Tyler and "Team Hard Racing"!!
NEOPMA PROUDLY DISPLAYED SPONSOR BANNERS AND ANNOUNCED THEIR NAMES AND PRODUCTS. THANKS TO OUR SPONSORS: American Racing Headers, Renegade/Star Transporters, MSD Performance Products, Stupid Fast Tee Shirts, VP Racing Fuels, Goodyear Racing Tires, ATI Performance Products, Ram Clutches, RPM Magazine, G Force Race Cars, Star Cab Company, Scriba Welding, Barker Racing and Dave Hance New York Motorsports.
More and continued thanks to our NEOPMA Officials …Rocco and Joann Micciolo (Event Management), Mark Walker and Tara Bowker "Black Rock Photography" (Photography / Web site Management), Rockin Rob Cherkas and Caity Lady (Announcements and Tee Shirt Sales).