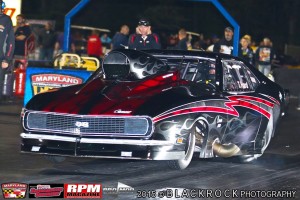 It's no doubt that the Annual "Snap On" Superchargers Showdown brings one of the largest groups of automotive enthusiasts from all areas of the Mid-Atlantic States to Maryland International Raceway in the fall. The Northeast Outlaw Pro Mod Association also documents this race as one of the largest in participation of the year considering its one race before the Season Finale'. Expectations for gaining points in the run for the championship is closing in with everyone recently feeling the high of personal bests all year and track records set in past venues. The NEOPMA organization records have been as quick as most of the sanctioning bodies if not quicker featuring sub 5.90's at almost every race sub 6.0's are the norm.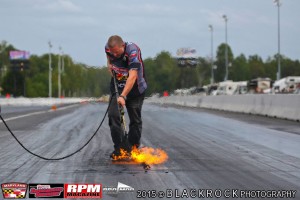 Under the preparation of Jason Miller and his team of track preparation pros, the track was just so tight some racers had issues with such good track prep they either ran their best or had to adjust massively for the insane hook produced by this crew! With the track basically "Dead Hooking", wheel-speed was nearly nonexistent in early testing, the racers were simply stunned and looking for the track to "calm down" a bit as some tire rotation is always a little better for the pro mods.
As with any near fall weather the threat of rain reared its ugly head on both days as the fans still participated in staying as long as showers held off the night time session on Friday Night and racers would have to get it right on Saturday. Some early testing showed promise though Friday morning as we expected records to be set once again.
The warm weather didn't take long to move out as qualifying began but showers still held heavy on the minds of the staff at MDIR. After two rounds of qualifying and a sizable rain delay followed by a smaller but still substantial delay we had a qualifying ladder consisting of 23 cars with plans for a "Consolation Race" figured into the event, we had just enough to run both a full 16 car and 8 car fields. Close to 33 cars were expected to participate but as the weather played a factor, eight confirmed racers did not participate. Still a great car count despite the rain forecast.
Qualifying Highlights: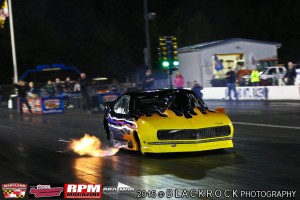 After two rounds of brutally fast sessions Points leader Tyler Hard in his "Switzer Dynamics" nitrous flaming Tim McAmis Camaro really showed his muscle tearing through the 1320ft with his number one spot 5.840 @ 240! Steve Drummond had been searching for an issue with his "Drummond Race Cars" twin turbo Mustang and found it for sure finally back to where he was and a little more foot braking his car to a personal best 5.904 @ 244. Kevin McCurdy returns in his regular Supercharged "Tim McAmis" Camaro after last race he used a backup car to stay number two in the points he was on his game stating he had his best 60ft ever ".951" resulting in a strong number three placement 5.905 @ 236. Andy Jensen, a crowd favorite wowed the fans with his small block single turbo "Andy Jensen Racing Engines" powered Camaro after his searing 5.914 @ 240.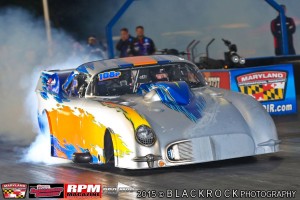 After a short hiatus Craig Pio returns to not only click off what looked like an effortless 5.935, Pio also captured the top MPH of qualifying with a screaming 250MPH. Pio also stated he had some of his best 1/8th mile times ever due to track prep at MDIR. Fredy Scriba 5.982 @ 243 rolls into the number seven spot following his great performance last month nailing a held over victory against a tire shaking "Robert Patrick" in first round of qualifying. Dwayne Wolfe keeps the ladder flowing in the five second zone putting a strong pedaling 5.996 @ 233. Tommy Gray in the "Undertaker" Corvette fell off his best pass ever at the last NEOPMA race and would settle for a very good 6.033 @ 241.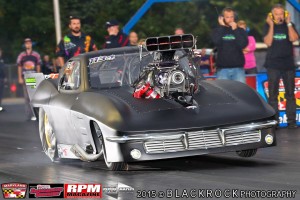 Casey Stemper had his best qualifying session yet in his "Innovative Performance Racing" Vette as this team continues to improve exponentially with each appearance; Casey netted a 6.050 @ only 228!! Matt Deitsch conquers his clutch problems and finally gets a handle on his one pass as two nitrous backfires hurt him but his 6.109 @ 231 placed him solidly in the ladder. Back also after short time away, Mac McAdams returns with his 53 Corvette launching hard to a good 6.252 @ 222. Jeff Rodgers turned up the wick on his nitrous powered Mustang and hazed the cool air with flames pumping out horsepower to a 6.288 @ 224.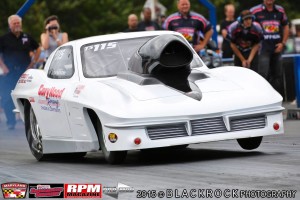 Gary Naughton in the "Gil Christy Motorsports" spooled its twin turbos to a 6.451 @ 224 as they try and grasp all that "DiSomma Racing Engines" HEMI power and place it to the track consistently. Fifi Montrond brought enough power to the game but had some handling issues on each pass with VERY HARD launches; Fifi would pedal it to 6.590 @ 220. Ray Jackson entered into the quick ladder with his wild Supercharged 98 Cutlass finding himself 15th with a 7.114 @ 190 shaking the massive tires. Gary Hood of "Gary Hood Race Cars" was finally able to apply some power to his brand new Corvette as he shifted the Liberty Trans to 7.141 @ 191 driving through tire shake.
Consolation Race Qualifying: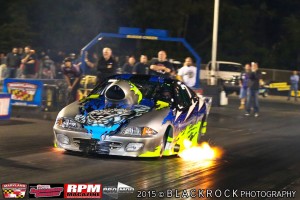 NEOPMA had planned into the event an at least 8 car field for this though we were hoping for a full 16 it was not to be. The race was based on those that didn't qualify in the first field with a decent payout for the winner. Most if not all of the final seven cars left suffered from some type of tire shake or mechanical issue putting them in this ladder. Charles Redd in his all motor 68 Camaro was number one 7.226 @ 187, Steve Assenmacher who was usually a 6.10 car fell off quite a bit 7.420 @ 123. Rob Hunnicutt again has some handling issues that held him back shutting off early 7.835 @ 114. Robert Patrick who is consistently in the top of the ladders couldn't get the "Super Snake" to hook the complete 1/4 mile only netting him a 9.231 @ 93; Frank Patille also had tire shake issues in the only Buick Roadmaster Pro Mod in existence 12.567 @ 61. Matt Deitsch broke as did Leroy Dewdney.
Eliminations Round One: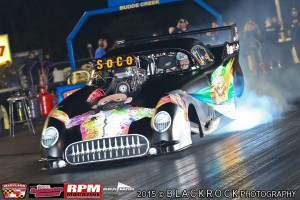 After a fairly long rain delay the first round of eliminations began as the staff at MDIR took control as soon as we had a good window and had the 1/4 in mint condition to bring HUGE numbers right away. Tommy Gray would be the first to prove the worthiness of this surface by annihilating his opponent clicking off an 5.866 @ 241 vs Charles Redd 7.212 @ 188. Mac McAdams 6.223 @ 224 would fall to a slowing Fredy Scriba 6.023 @ 237. Craig Pio made his 5.971 @ 243 look effortless in his win against a still strong Jeff Rodgers 6.232 @ 228. Andy Jensen kept getting quicker and showed it well as his 5.902 @ 240 was proof putting away a skating Gary Naughton's 8.092 @ 118 lifting early.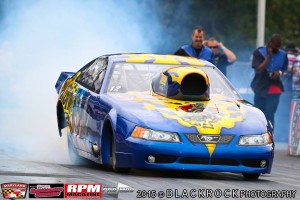 Kevin McCurdy 5.994 @ 239 would be out in front and running hard in his win against Fifi Montrond as he tapped the wall a couple of times slightly damaging the Vette. Ray Jackson 8.673 @ 102 could not keep pace shaking the tires against a flying Steve Drummond who tripped the beams 5.943 @ 242. Gary Hood would have to be shut off as an oil leak showed up after his burnout leaving Tyler Hard a solo pass and he shook the tires hard coasting to an 11.940 @ 75. Matt Deitsch Sr. 6.080 @ 232 scorching the blacktop in a nitrous flaming pass put Dwayne Wolfe 6.767 @ 169 out of the running early as Wolfe had to try and pedal his way back in the groove.
Eliminations Round Two:
Again a brief rain delay held the racers off but the track just kept getting better. Fredy Scriba 5.972 @ 237 would come out firing on all cylinders first taking the win light over second place point's leader Kevin McCurdy with a short pedal he fell to a 6.082 @ 240. Steve Drummond would keep his win light on again as he struggled with getting loose on the top end his 7.055 @ 196 was a given as Matt Deitsch again suffered from a HUGE nitrous burst and he shut off before the finish line. Andy Jensen 6.103 @ 226 would get a bye run as Craig Pio found a header leaking at the primary flange and could make no boost and did not make the call. What could have been the race of the night looking for side by side low 5.80's ended up with Tyler Hard losing via tire shake to Tommy Gray who hazed the 1/4 mile in his best ever 5.836 @ 242!!
Semi Finals:
After a brief drizzle, fans were still seated as the competitors lined up behind the entrance to the burnout box, air was good and we began to fall well past midnight. Fredy Scriba would face Steve Drummond as the first two out. Scriba was on a good pass as Steve Drummond reached the 800ft mark a huge fireball erupted underneath and inside his Mustang then becoming totally engulfed in flames as it came to a stop. The fire and rescue team was on the car within five seconds and rescued Steve Drummond and most likely rescued the car with their quick reactions. Steve Drummond was OK. The lengthy clean up to begin was hampered again with light drizzle and the race was ended for the night as were reach 1AM.
Consolation Race: Steve Assenmacher beats Rob Hunnicutt.
In all, the weekend had enough curveballs thrown at it but MDIR managed to overcome the multitude of obstacles and provided a great surface and outstanding safety. Our group of racers had nothing but praise for all the hard work to get to the point we did. NEOPMA looks forward to visiting MDIR in 2016 as many times as possible.
NEXT NEOPMA EVENT: October 17th NEOPMA Series Season Finale' Atco Dragway's "OUTLAWS AT ATCO" Featuring The Northeast Outlaw Pro Mods 1/4 Mile Drag Racing
NEOPMA PROUDLY DISPLAYED SPONSOR BANNERS AND ANNOUNCED THEIR NAMES AND PRODUCTS. THANKS TO OUR SPONSORS: American Racing Headers, Renegade/Star Transporters, MSD Performance Products, Stupid Fast Tee Shirts, VP Racing Fuels, Goodyear Racing Tires, ATI Performance Products, Ram Clutches, RPM Magazine, G Force Race Cars, Star Cab Company, Scriba Welding, Barker Racing and Dave Hance New York Motorsports.
More and continued thanks to our NEOPMA Officials …Rocco and Joann Micciolo (Event Management), Mark Walker and Tara Bowker "Black Rock Photography" (Photography / Web site Management), Rockin Rob Cherkas and Caity Lady (Announcements and Tee Shirt Sales).