2018 NEPOMA RULES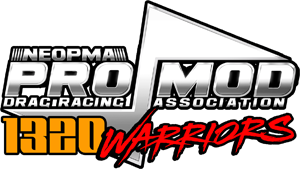 As always, the leaders in parity with rules, the NEOPMA series have made great strides to again be the association with the most to offer in the wide scope of various power plant and power adder options this year.
Many have asked about our commitment to full 1/4 mile racing and we are still going to be the force in the northeast. This year we have added quite a few changes to the rules pertaining to power adders and engine sizes.
Along with our value as a club, we feel this year we will bring more to the table with affordable racing as a club member for virtually any type of Pro Mod.
We hope you will look over the revisions and see, we are the 1/4 solution.
ALL PREVIOUS RULES APPLY UNLESS SPECIFICALLY CHANGED BELOW. PARITY RULE SUPERSEDES ALL OTHER RULES.
SAFETY RULES ARE TO BE STRICTLY AHEARD TO WITH TRACK MONITORING. TRACK WILL USE ITS INSPECTORS.
CLUB OFFICIALS WILL PERIODICALLY INSPECT NEOPMA CARS FOR RULES ADHERENCE. OFFICIALS MAY CHECK CARS AT ANY TIME DURING A RACE. FLAGRANT RULES VIOLATIONS MAY RESULT IN DISQUALIFICATION. AGAIN, PARITY IS OUR PRIMARY OVERRIDING RULE AND GOAL.
PROTEST PROCEDURES ARE SIMPLE: ANY NEOPMA RACER MAY PROTEST. SIMILAR TO NHRA PROTEST MUST BE IN WRITING ONE DAY BEFORE ELIMINATIONS OR IF WINNER IS PROTESTED BY THE RUNNER UP AFTER THE FINAL ROUND. ASSUMING THE PROTEST IS FOR CUBIC INCH VIOLATIONS THEN BOTH WINNER AND RUNNER UP WILL BE REMOVING THEIR HEADS or OTHER MEANS. A CHALLENGER FEE OF $1000.OO CASH WILL BE PAID TO THE PROTESTED PARTY IF INNOCENT PLUS $250 (CLUB FEE) WILL BE COLLECTED IN ADVANCE/CASH ONLY.
Nitrous Rules:
1. Cars must pass all Pro Mod safety requirements required by the tracks.
2. Weight minimum a) 2350 lbs. for engines under 900 ci. b) 2425 lbs. for engines from 900 to 924ci and c) 2475 lbs. for engines from 925 to 960 ci.
3. Any transmission allowed by NHRA, PDRA, IHRA others
5. Maximum number of Nitrous systems =5
6. Deduct 50 lbs. for NON LOCK UP CONVERTERS and NON LOCK UP CLUTCH CARS.
Blower:
1. Safety rules …Same as #1 above.
2. Weight minimum Roots Blower 2600 lbs., Screw Blower 2650 lbs.
3. Roots and Screw blowers … cubic inches may not exceed 526,
4. Transmissions …Same as #3 above
5. Roots Blower max 29% over drive,
6. Screw Blower "C" type 93%, "D" type 115% (may be reduced based on performance to maintain Parity)
7. Non Lock Up converters and Non Lock Up clutches deduct 50 lbs.
8. Pro Charger weight is 2500 lbs. with maximum cubic inches of 540.
Turbo
1. Safety Rules …Same as # 1 above.
2. Weight Minimum 2600 lbs.
3. Turbo cubic inches may not exceed 526
4. Transmissions same as above /no lock up converters
5. Turbo size maximum a ) Hemi Headed engines … 88 mm / Boost not to exceed 38 pounds, Brad 5 or older speak with club officials for special consideration, b) Wedge Headed engines … 94 mm / Boost not to exceed 48 pounds. These rules will be very closely monitored and may change due to performance to maintain Parity.
6. Small Block Single Turbo weight is 2200 lbs. Turbo size may not to exceed 120 MM .
7. PM Imports … 4 cylinder 2000 lbs, 6 cylinder 2100 lbs. minimum weight. FUEL …NO NITRO OR M5 ALLOWED
Parity rule has existed in the NEOPMA for 25 years and has never been exercised. Cap ET at 5.70 …Anyone going faster than 5.70 may be penalized with 25 lbs. extra weight to be added immediately and ongoing to achieve Parity.
The Purpose is to keep any one car from totally dominating. Simply stated it allows club officials to impose immediate major changes to any car or class if that one car or class out performs the other cars in a major way.
Due to lack of Turbo familiarity and the NHRA, IHRA likely rules changes in the segment …we will be monitoring these cars very closely.
We are adding new officials so Cars / turbo and blower boost as well as weight will be checked at most tracks