Established in 1992, originally we were known as the Northeast Pro Shootout Association. It was formed to provide local Pro-Mod racers the opportunity to provide entertainment for spectators, increase sponsor promotions and advertisement, and help tracks drive more spectator business. 20+ years later, our continued success is proven by its longevity and continues performance in this arena. Recently we expanded the Pro-Shootout to include outlaw cars, including turbo and naturally aspirated cars to provide a broader array of competition and fun for all. We now have a perfect blend of different types of cars, drivers and engine types to appeal to a broad diversity of racing fans.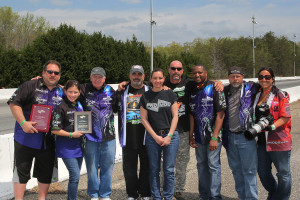 Our Members
The Northeast Outlaw Pro Mods features a wide variety of body styles and engines configuration making for some of the quickest and fastest Door Slammers in the country. Some choose Nitrous Oxide; others go with a Supercharged or Turbo configuration. Needless to say it makes for some very exciting 1/4 mile drag racing in the high 5 second range at over 250 MPH
Our Goals
The goal of the Northeast "Outlaw" Pro Mods is to provide drivers with a safe, professional, and competitive environment for Pro Mod drag racing. To help achieve these goals the association officers work closely with local tracks and organizations. It is our hope that by developing strong relationships with the local tracks, organizations, and drivers, while delivering a quality and consistent performance, we can increase the recognition of the Pro-Modified class.
Eligibility For Membership
The term "Outlaw" should not be misinterpreted to mean outlaw racing, outlaw cars, outlaw motors, or any of its derivatives. To determine if your vehicle meets the requirements of Northeast "Outlaw" Pro Mods please refer to the rules page. Failure to comply with the rules and requirements as listed will result in denial of membership. Violation of these rules and requirements can result fines and/or membership termination as deemed appropriate.
Association President
John Mazzorana
Phone: 516-857-3120