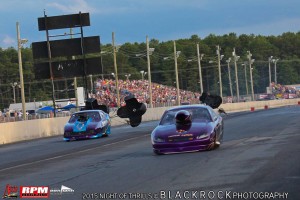 NEOPMA Pro Mod Series Atco Raceway Photo Gallery By Tara Bowker of Black Rock Photography
We know summer is officially here when Atco Dragway lets loose the "Night Of Thrills" on their 1320ft of asphalt and the NEOPMA Pro Mods are included. This race was also a scheduled NEOPMA point's race so much was on the line for our racers to not only put on a show in front of the thousands of fans but also compete as hard as they could, no lying down for a show! Fans were treated to low 6.0 passes through the modified two rounds of qualifying which was held back an extra hour (NEOPMA is usually three rounds) as fans were still waiting three wide in Atco Dragway's entrance as it came time for first qualifying and President John Mazzorana chose to make sure all the fans got to see the best of the 16 out of 18 entered cars that competed in the NEOPMA Series shoot it out as heat and sun were extreme at that time also.
With heat and temps playing a HUGE roll in the prospect of seeing a 5 second pass early in the day, fans were mulling the pits with all the various celebrities on hand and the different types of vehicles, fuel cars, jet cars, monster trucks and more who planned their day to wow the people with their own shows also. The blazing sun and extreme heat had fans finding cover as best they could, wet towels around everyone's necks, umbrellas or finding shade near the stands was the norm.
Qualifying: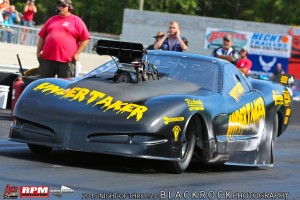 Track temps registered in the 135 degree range for the first round, our NEOPMA racers would have their day cut out for them as the superheated air and almost unbearable humidity would surely hinder performances. You would figure in the heat that the nitrous entries would have the advantage making their own atmosphere but number one qualifier Tommy "Undertaker Corvette" would prove this wrong as the screaming supercharged Hemi would gulp it down and run a solid 6.074 @ 239, Dwayne Wolfe would be within a thousandth also supercharged knocking down a 6.075 @ 236. Frank Patille would complete the top three of the blower dominated sessions with a very good 6.171 @ 235. Jim Barker in his gorgeous Camaro "Supercharged" placed number four getting out of it early yet still managed a 6.252 @ 218. Top player Tyler Hard was the fifth spot and first nitrous car on the list with his Tim McAmis Camaro rippling the air as it sped to a 6.256 @ 234. "Hard Racing" team-mate Kevin McCurdy's Blown Tim McAmis Camaro struggled at mid track leaving him in 6th at 6.317 @ 189. Wayne Patton gets his best standing yet as his supercharged Camaro would run a decent 6.681 @ 207 driving through tire shake. Allan Juhasz always launching wheels up in his nitrous Grand Am placing himself in the middle of the ladder 6.837 @ 209. Scott Woodington returns to NEOPMA in his 53 Corvette to place 9th struggling with its first real outing 6.847 @ 195. Matt Deitsch running a small cube single stage nitrous system in is Cobalt posted a 6.87 @ 196. Steve Drummond returns after knee surgery to get the turbocharged Mustang into the ladder, facing transmission problems he manages number 11 spot while letting off early 6.910 @ 120. Angela Ray also returns to the track she's done so well at and her huge fan base setting baselines for her first outing the 7.025 @ 142 would suffice with short hits. Steve Assenmacher was again driving through severe tire shake to garner a number 13 ladder spot. Jimmy Sugan in his "Hooters" Camaro" would get in and man does the crowd love this young man in his first outing with NEOPMA this year launching wheels up to a 7.660 @ 176. Well known Atco favorite "Chuck Mohn" seemed to be having issues with the tune up, his usual low 6.0's in the beautiful Camaro weren't to be found and he settled for early shut offs with a best of 7.664 @ 155. Fredy Scriba still having severe tire shake issues couldn't make a full pass through both qualifiers, the team is surely feeling the growing pains of the new power plant and getting it all to the ground. The team of Gil Christy / Gary Naughton made their debut of the impeccable GXP Turbo Pro Mod, but Friday testing gave them a close call as the oil tank burst on the top end and couldn't compete on Saturday. John Montecalvo was also ready to throw down but broke in Friday testing also.
Round One Eliminations: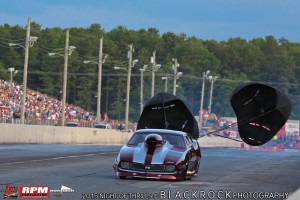 Round One of eliminations came as the sun was starting to set yet temps still remained high, air was poor even for the pine barons of Atco New Jersey. Tommy Gray 6.490 @ 211 would take his round easily over the struggling Fredy Scriba losing power 8.536 @ 103. Allan Juhasz 6.832 @ 203 ousted a smoking Scott Woodington who's crew stated later "they had just finished the car early afternoon the day before this race and knew the rings were not right but were pleased with the first outing, they have much more in this car". Jim Barker 6.474 @ 193 nosed over on the top end letting an up and coming Steve Assenmacher run a stellar 6.212 @ 230 with his nitrous tune pumping away on the big end. Angela Ray would lay down a strong 6.167 @ 232 in the heat but not good enough to fend off Tyler Hard's off-pace 6.14 @ 238. Chuck Mohn would cut a brilliant .002 light against Dwayne Wolfe .064; it was not enough to stop Wolfe from getting to point A to point B in 6.140 @ 208, while Mohn again seemed to have nitrous issues, his usual pipes ablaze were just not there again 6.851 @ 188. Wayne Patton 6.709 @ 208 would put young Matt Deitsch on the trailer early 7.011 @ 184. Frank Patille would drive the "Only Buick Roadmaster" pro mod in existence through tire shake 7.154 @ 144 to end Jimmy Sugan's "Hooters Camaro" night 7.554 @ 180. Kevin McCurdy 6.128 @ 240 (TOP MPH) found the 880ft mark challenging again as he powered through it this time to keep Steve Drummond out of the win column as he also faced an ongoing transmission issue managing a 6.366 @ 220 to end a very hot first round.
Round Two Eliminations: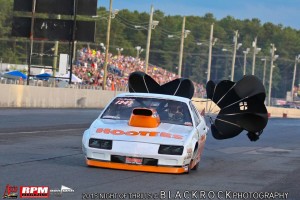 The sun was finally off the track for at least a half hour but that wasn't enough to give the racers a strong foundation as Atco's staff kept it well managed in the excessive heat we did get to see some brilliant racing and UPSETS! Allen Juhasz would be the first to upset a very quick Tommy Gray as the "Undertaker Corvette" failed to start the car also suffering a serious torque converter issue leaving Allan Juhasz to take a bye run into the semifinals, Juhasz showed his skills as a dominant Top Sportsman racer and dropped a perfect .000 light on the tree shutting off early 7.398 @ 142. Tyler Hard decided to put in the nitrous on steroids tune, lighting the pipes blazing white the full 1320ft setting low ET for the round 6.030 @ 237 as Steve Assenmacher 8.862 @ 112 watched the show from the best seat in the house. Wayne Patton seemed to stumble in his burnout and did not find traction in his loss to Dwayne Wolfe who started to get back on his game 6.101 @ 235. Frank Patille .034 – 6.262 @ 222 would take the win in another upset by way of a holeshot against points leader Kevin McCurdy who valiantly tried to pedal the massive horsepower back in front .115 – 6.211 @ 239 The MOV on this pass was .030, that's some exciting action my friends to end this session.
Semi Finals:
As we were well into the night we had a good chance of seeing a five second pass before this race was all over. Allan Juhasz could only hope to take a shot at the tree to keep his streak alive going red -.022 against Tyler Hard who found his "Hard Racing" Tim McAmis Camaro trip the beams with fans on their feet again treated to the fire breathing tune up in this beast. Hard's package was the best of the night all around .017 – 6.023 @ 238 bettering his earlier LOW ET of the race. Frank Patille had showed he had the horsepower in early rounds to keep pace with opponent Dwayne Wolfe. As they pulled into the beams, Wolfe left hard .140 but began losing power mid track due to kicking out a rod 7.785 @ 122 and Patille could not get the "Black Cat" Buick Roadmaster Pro Mod to leave the line in his loss.
Finals: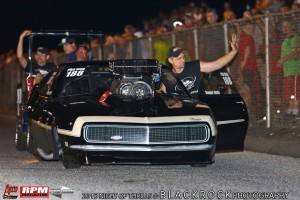 As always with an Annual Show like the "Night Of Thrills", getting a full 16 car field to run before the state says you are no longer able to can be a chore for the track owners and racers as curfews set in. There would be no final as curfew was upon us, both Dwayne Wolfe and Tyler Hard suffered damage and would not make the call if it was even possible to get it in. The spectators were treated to some fine examples of "NEOPMA Pro Modified Drag Racing" in a short period of time. Thousands enjoyed these Doorslammer beasts through excruciating heat and humidity; they truly had a great time with the complete show. Atco did an incredible job of spacing the rounds to keep a very exciting pace through the end of the night.
MAJOR SPONSORS: American Racing Headers, Star Transporters, MSD, ATI, USA Auto Supply, VP Racing Fuels, Goodyear Racing Tires, Stupid Fast Tee Shirts.
ASSOCIATE SPONSORS: Ram Clutches, RPM Magazine, G Force Race Cars.
CLUB MEMBER SPONSORS: Barker Racing Team, Scriba Welding/Racing Team, Hard/McCurdy Team, Pappas/Marinis Team, And Star Taxi Service (Fifi Montround)