By: John Mazzorana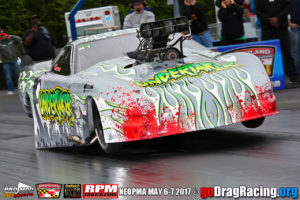 We had 16 NEOPMA PM Racers attend the NEOPMA Season Opener at Maryland International Raceways Annual Door Wars. Unbelievable when you consider the dismal weather forecast that had been predicted. IT WAS FANTASTIC as always though. The lousy weather forecast and dismal Friday/Saturday did not dampen the fantastic attendance of the NEOPMA teams. Nineteen PM killer cars attended and had faster, better than expected races. Special thanks to The Maryland International Raceway team that did an Amazing job of prepping the track despite the annoying drizzle, chilly weather and occasional wind. Their hospitality is unsurpassed.
Here is a brief overview: I am also delighted to report that we picked up some new members who are super guys… Kenny Ferguson (Bad Blood) Supercharged Vette, Dan Sauro "Nitrous Camaro" and Al Martorino (Canada) Supercharged Mustang. Welcome!!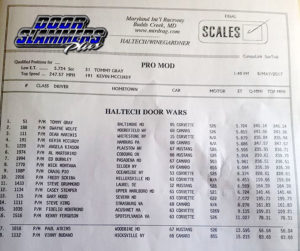 Friday… the guys parked and got a few test shots in, even the drizzling was intermittent. By late Friday night we had 19 NEOPMA teams in attendance.
Saturday we got in our three test sessions. The track had teeth, many turned their best 60 foot and eight miles times ever. Tommy Gray shocked everyone by breaking the track and NEOPMA ET record with his 5.78 ET at 243 MPH followed by an even more impressive 5.72 at 245MPH. We had 5 cars in the 5.90s or faster by the end of qualifying. By the end of the race we had 8 cars in the 5.90s or faster category. On the other hand, others struggled as this was their first time out this year. Two gteams broke before qualifying (Casey Stemper and Paul Atkins).
Sunday was again a blend of cloudy, sunny, chilly and end of day drizzles but it didn't stop us from kicking some ET butts. Remember for many racers this was their time out and mostly getting the cob-webs out.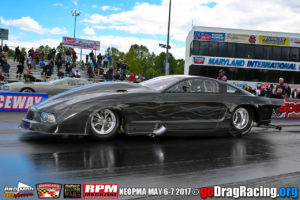 Round 1: Al Martorino clicked off a 5.99 defeating Steve Drummond 6.44 back in the mix with his Drummond Race Cars turbocharged Mustang and a completely fresh build after a fire nearly destryed it a year or so ago (electrical issues). Dean Marinis / Pappas team ran a 5.94 beating the King / Miller team who had been struggling all day. Ed Burnley 5.98 at 236 MPH just beat Fred Scriba's team by inches with a 6.07. Fred had been suffering with first day electrical blues. Angela Ray Kinsen put Vinny Budano (traction issues) on the trailer with her 5.88 at 237 MPH. Last years ET record holder for almost two years, Kevin McCurdy ran a 5.82 at 247MPH as Gary Hood fouled. Nick Montana (6.12) and Craig Pio (6.11) had a nose to nose race with Nick's winning whole shot. Tommy Gray's 6.56 ET beat Ken Ferguson due to major tire shake. Dwayne Wolfe had run a 5.89 in qualifying but broke on the starting line and couldn't get the car started.
Round 2: Tommy Gray's 5.76 put Nick Montana (who lifted due to tire shake) on the trailer. Kevin McCurdy lifted and lost to Angela Ray Kinsen's 5.88 at 238, It's notable that this was Angela Ray's best ET ever and a personal record. Ed Burnley lucked out and got a buy run and ran a 5.94. Dean Marinis / Pappas team 5.90 nosed out Al Martorino's 6.00.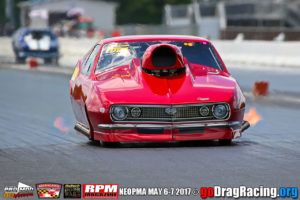 Round 3: The weather was changing getting colder and occasional drizzle. Tommy Gray had his hands full, Angela Ray Kinsen who cut a great light and ran a 5.88 but Tommy Gray caught up just after the eight mile and ran a 5.76 winning the round, also keeping his 5.70's streak alive. Dean Marinis and Ed Burnley were in a duel as two super drivers. Dean went a 5.90 to Ed's 5.89 with Ed just taking the win also capturing his own personal best and first time in the 5.80's.
Round 4: Then the rains came so we postponed the finals until our next race at Capitol on May 26 & 27. Tommy Gray (The Undertaker) Corvette against Ed Burnley (Iron Man) Camaro, The Battle of the Blower vs Nitrous cars is coming soon.
Great attendance with great teams with super track hosts at one of the best tracks in the country. Thank you Royce. Thank you PM teams and special thanks to our club officials. Our POINT's page will soon reflect the latest of listings.
Looking forward to seeing you all a Capitol on May 26 & 27.
NEOPMA Pro Modified Drag Racing Photos