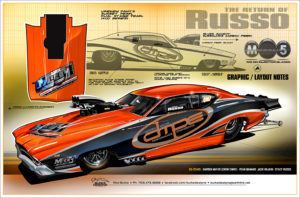 Chris Russo did not burst onto the pro mod scene with a big sponsor coming form Junior dragster going right to the top of the qualifying ladder in PM; No, Chris on a test and tune night ran a painfully slow 1969 barracuda with 340 bagging and a 318 2 barrel engine. "It ran a 17 something at a MPH that is way too embarrassing to repeat" said Chris. Some of you reading this article can identify with that type of beginning to your drag race career. He very slowly trudge through the 15's down to the 14's and so on. Even though this journey was long and painful at times it taught Chris one very important lesson. "If you want to be successful you need to surround yourself with the right people." That lesson was learned in 2009 when Chris got Mike Faucher from Quest Racing on board. That move ended up propelling Chris to finishing #3 in the world in IHRA while winning multiple National events.
When Chris decided to get back into Pro Mod racing last year he had some very important decisions to make. "The choices you make when putting together your drag race program will have a big effect on how well you do on race day. I have never believed that you have to go with the biggest names in the drag racing industry to get results. You just need to find people who are innovative, talented and have a passion for what they do." Well sometimes those same people just happen to be some of the biggest names in drag racing. "Andy McCoy Race Cars just made sense. When it came time to pick a race car builder I had a lot of choices.
AMRC was an easy choice for multiple reasons. They have cars in all different Pro Mod series that have won championships or are running up front. They have not only had success in the USA, but in Europe and Australia as well. They are innovators when it comes to the building of race cars especially race car bodies. With that being said the most important reason is AMRC is a family owned and operated business. They realize that each person has individual needs when it comes to the build of a new car, you are not just a number to them. They are true craftsmen and it shows when you see the finished product." Chris will take delivery of his new AMRC 1969 Chevelle soon after the PRI show.
The newest shiniest Pro Mod still needs a engine between the frame rails that makes big steam to be fast. That's where Darren Mayer, owner of http://www.dmpeinc.com/superchargers/DMPE Inc., comes into play. DMPE makes and supplies superchargers for all different types of racing applications from tractor pull to Top Fuel. "Darren spends a lot of his time in the NHRA top fuel pits these days but he has begrudgingly agreed to help me out with an engine program. We have been working on this roots power plant for over 3 years.
During that time Darren worked closely with Bryan Moreland of CP Carrillo on the rod and piston package. CP Carrillo is an awesome company to work with and that is rare in this day and age. With CP Carrillo making the parts, and then using the DMPE dyno to put them to the test, we have learned a lot. I had no idea how valuable the DMPE dyno would be to our engine program. It is a state of the art inertia wheel dyno that will give you the hard facts about where your engine program is really at. With Darren's creative out of the box thinking coupled with what the dyno has taught us, I feel really good about running anywhere. The reason there is a big DMPE sticker on the door is because this deal is as much Darren's as mine."
Russo Racing is not sure what series they will run in 2017. "It is still up in the air. Maybe some PDRA or possibly NMCA, not sure yet. One series I will definitely support is the NEOPMA. Make no mistake about it they are really fast over there. I would also like to thank Rod from Burke Designs for coming up with this slick look on my new car. Add him to that list of talented people on this project. Any way it goes I am more than happy with the people that have agreed to be a part of this."Some other company's that Russo Racing would like to thank are Quest Racing, CP Carrillo, Flying A Motorsports, Bamond Brothers Racing, The A Team Speed Shop, Burke Designs and LHP.