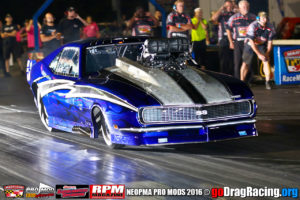 Last year the team of "Hard Racing" came down to one round between teammate Tyler Hard for the Championship with Tyler taking those honors in 2015. This year was a completely new foray into the point's championship which "Standout" Kevin McCurdy would look to take no prisoners throughout the season in his Supercharged Camaro.
McCurdy would have his sights scope locked on the win lights and the championship clearly as the season progressed. A runner up finish at the NEOPMA season opener at Maryland International Raceways "Door Wars" followed by a winner's circle appearance at the Annual IHRA Presidents Cup MDIR,  Super Chevy at Maple Grove Raceway.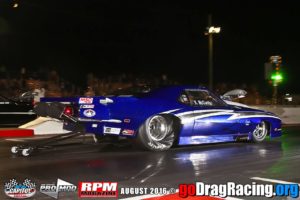 Many times Kevin McCurdy would find himself in the number one qualifying position or deep in the rounds with 10 races in the NEOPMA season it was a lot of hard work with a fast car and a persistent driving effort combined with extreme composure against some of the quickest Pro Modified racers in the country to take the maximum amount of points home with him.
If ever there was a reason for racing the NEOPMA series, Kevin McCurdy would be the epitome of perseverance and a formidable opponent to run against. Congratulations to Kevin McCurdy and Team "Hard Racing" on this stellar accomplishment.