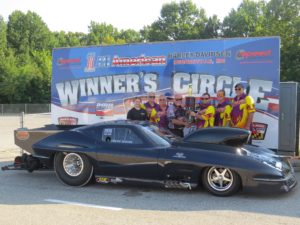 Mechanicsville, Md 08/20/2017:
Freddy Scriba took the win at Northeast Outlaw Pro Mod Association at Maryland International Raceway! A race full of broken byes left Scriba at the beams alone for the win when Dwayne Wolfe could not make the call broken.
Wolfe beat Ferguson, McCurdy and then when almost counted out defeated Dean Marrinas who patiently waited for Wolfe to hit the beams.
Scriba never raced anyone by winning broken byes including the finals.
He would of gave anyone a run regardless, being the most consistent car on property crossing the stripe at 5.86 @ 243.11 to win the finals.
Rick Hord who broke two transmissions in route to being number #1 qualifier with a 5.790 would of been the match to see. Rick has Xtreme Racing Engines Power by Carl Stevens Father / Son dual.
Next stop on the NEOPMA Tour is Sept. 8-9th at The New Capital Raceway.