September 8th – 9th NEOPMA Pro Mods at Capitol Raceway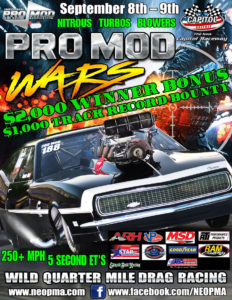 Featured GRUDGE Weekend!! The Northeast Outlaw Pro Mod Association returns to Capitol Raceway for the Battle On The Hill series September 8th – 9th with substantial bonuses!! Capitol Raceway will add $2,000 to the winner of this race as grudge payout incentive along with the normal NEOPMA payouts. Also, $1,000 bounty has been placed on the latest record set by Dean Marinis / Harry Pappas teams 5.78 to the first that breaks it.
The hold over GRUDGE final between Tommy Gray and Dwayne Wolfe will take place in a qualifying grudge race on Saturday! Capitol Raceway pays an addition $1,000 to the winner.