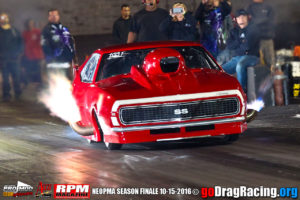 (Atco New Jersey 10-15-2016) As the end of the series drew to a close at the 2016 NEOPMA Season Finale at Atco Raceway, cool fall air had covered the Jersey pines as the 1320 warriors would bring some of the finest Pro Mods into this venue. Carnage began early with the extreme track conditions and excellent bite by the track staff. Two of the quickest and fastest NEOPMA Pro Mods were hurt early, both Fredy Scriba and Craig Pio would suffer irreparable damage, Scriba destroyed the rear in the "Sorcerer" Vette and Craig Pio would explode his dry sump tank at the finish line on an early first pass netting him 5.99 @ 240. After two rounds of qualifying an eight car field would take shape to run for the title.
1: Dean Marinis 5.840 @ 240 – The gorgeous Pappas / Marinis C7 Corvette would become the quickest and fastest of the overall qualifying. Powered by Pat Musi 903ci plus nitrous.
2: Todd Fontana 6.092 @ 210 – Clicking off the big nitrous power early Todd Fontana showed once again he can bring big numbers to each race
3: Nick Montana 6.138 @ 231 – Talented chassis builder Nick Montana would make the first couple full passes on this 69 Camaro straight out of his shop in New York with promising results.
4: Dave Norris 6.165 @ 236 – Norris has been a standout all year in the brilliant silver Camaro with supercharged hemi power, his MPH numbers prove the horsepower is there.
5: Tyler Hard 6.206 @ 231 – Struggling with traction and keeping it lit the length of the track; Hard still shows this car is making brutal power.
6: Allan Juhasz 6.492 @ 223 – The sleek black and red 70 Camaro cut through the wind to a very good ET and MPH as they have been getting a handle on making more power with this small 706ci combination.
7: Glen Puluse 7.278 @ 124 – This stunning GTO has so much more left in it but the traction was limited as Puluse would try and get in the middle of the ladder
8: Angela Ray Kinson 10.908 @ 78 – One of the quickest cars in the series that does well on Atco's surface got bit by the aggressive track conditions not getting a full pass down in two sessions.
ROUND ONE ELIMINATIONS: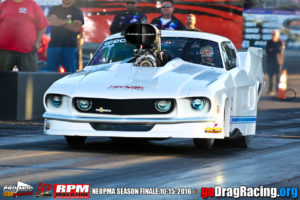 Dean Marinis and Angela Ray Kinson would line up first in the rounds. Both would leave with almost identical reaction times as Kinson would knock the tires off the Supercharged Shelby Mustang at the hit as she watched Dean Marinis make one of the quickest nitrous Pro Mod passes in history clicking off a 5.806 @ 246 placing him the sixth quickest nitrous pro mod in the world also collecting NEOPMA's new record on both ends with ET and MPH. Tyler Hard would take the win as the tree dropped still struggling to get the stunning 68 Camaro down the track well off its pace 6.203 @ 230 as Dave Norris lit the red light and had a stellar 6.073 @ 231 in his loss. I'll call the rolling round as both Glen Puluse and Todd Fontana both had early failures, Puluse lost traction and shut off as Todd Fontana would have a nitrous backfire and rolls to the win light 10.539 @ 109 with flame remnants still coming out his exhaust at the finish line. Allan Juhasz knew Nick Montana had some ET on him so Juhasz would take a stab at the tree but went -.003 red in his effort giving up his chance to move on, Nick Montana would click off a very clean and tidy 6.142 @ 231 to move on.
SEMI FINALS: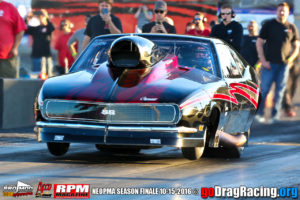 The sun was finally down and we were set for some cooler track temps and dense air, Dean Marinis seemed to be bracket racing again lighting the boards 5.836 @ 242 in his win against a nitrous backfiring Tyler Hard.
Nick Montana would set the stage for a very interesting final as he outran his opponent Todd Fontana 6.751 @ 203 who blew the scoop off the car on the top end trying to keep up with a winning Nick Montana just a hair short of his first five second pass with a 6.007 @ 232 moving on to the finals.
FINAL ROUND: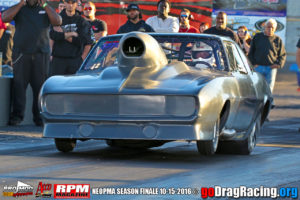 Just past 9PM both Dean Marinis and Nick Montana pulled into the lanes to fire up the heavy breathing nitrous motors. After screaming burnouts and massive purges both cars staged.
Marinis was out first .040 to Montana's .049 reaction time, quickly Marinis 6.266 @ 200 got loose and had to pedal the beautiful C7 Vette but just didn't have enough to catch up to the clean pass by Nick Montana playing it conservative going A to B for the win 6.093 @ 222.
NEOPMA Major Manufacturer Sponsors: American Racing Headers, Star Transporters / Renegade (Bernie Cochran), VP Racing Fuel, MSD Ignitions, Stupid Fast Tee Shirts
NEOPMA Associate Manufacturer Sponsors: ATI Performance, Penske Shocks, Goodyear Racing Tires, Ram Clutches, Neal Chance Converters, Vanishing Point Race Cars, Precision Turbo, HPL Synthetic Motor Oil
NEOPMA Supporting Club Members: Brian Hard "Hard Racing", Jim Barker "Barker Racing", Fred Scriba "Scriba Welding", "Pappas / Marinis Racing Team", Fifi Montroud, Craig Pio "Pio Racing", Dave Hance "New York Motorsports"
NEOPMA Officials:
Event Directors… John Mazzorana President / CEO, Rocco and Joanne Micciolo VP, Mark Tinari VP, Ray Staley, Mel Jones.
Photography / Web Site / MEDIA Relations, RPM Magazine … Mark Tinari VP, Tara Bowker of Black Rock Photography "Official NEOPMA Photographer"
Announcer and Tee Shirt Sales… "Rockin Rob" Cherkas and Caity Lady
Videos and Interviews… Jimmy Biggs